Renteria becomes first skipper tossed in '14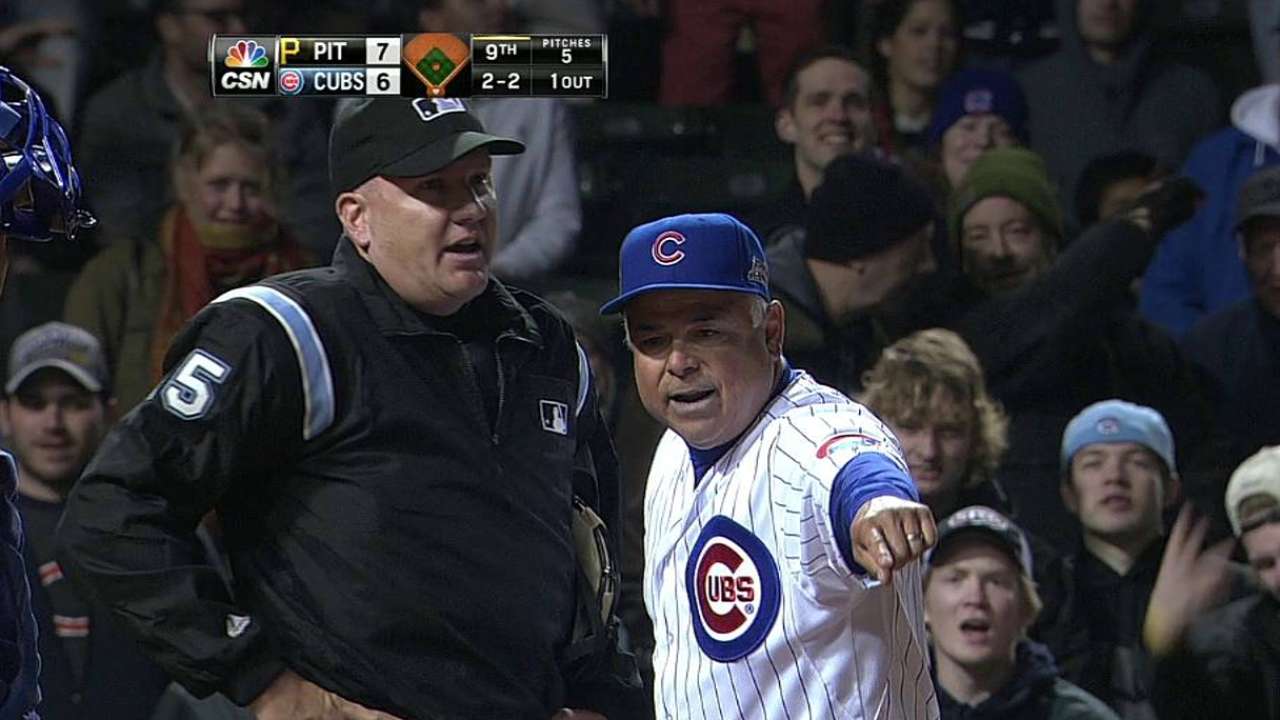 CHICAGO -- The Cubs' Rick Renteria became the first Major League manager to be ejected this season when he was tossed in the ninth inning for arguing balls and strikes with home-plate umpire Jeff Nelson.
Managers do have access to expanded instant replay this year, but cannot challenge an umpire's calls on balls and strikes.
Renteria was the first Major League manager to use instant replay, doing so in Pittsburgh on Opening Day. Told that he also was first to be ejected, he shrugged.
"OK," Renteria said. "I don't know if that's very good, but OK."
The Pirates led 7-6 in the ninth when Renteria complained from the dugout about a call on Jose Veras' 1-2 pitch to Jordy Mercer. Nelson called it a ball, but Renteria felt it was a strike. The umpire apparently heard enough, and signaled that the rookie manager was gone. Renteria came onto the field to discuss the matter further, but eventually retreated to the clubhouse.
What was the issue?
"That was between me and Jeff," Renteria said.
"He's a fiery guy," Cubs pitcher Edwin Jackson said of Renteria. "He's going to stand up for his team. He's going to speak for what he believes and fight for the guys in the clubhouse. He sees us out there battling. It's part of the game.
"If I do a better job as a starter, going deeper and keeping the score down, he doesn't have to get to that point," said Jackson, who gave up four runs in the first inning in the Cubs' 7-6 loss.
Carrie Muskat is a reporter for MLB.com. She writes a blog, Muskat Ramblings, and you can follow her on Twitter @CarrieMuskat. This story was not subject to the approval of Major League Baseball or its clubs.