Rizzo, Renteria reflect on Wrigley's history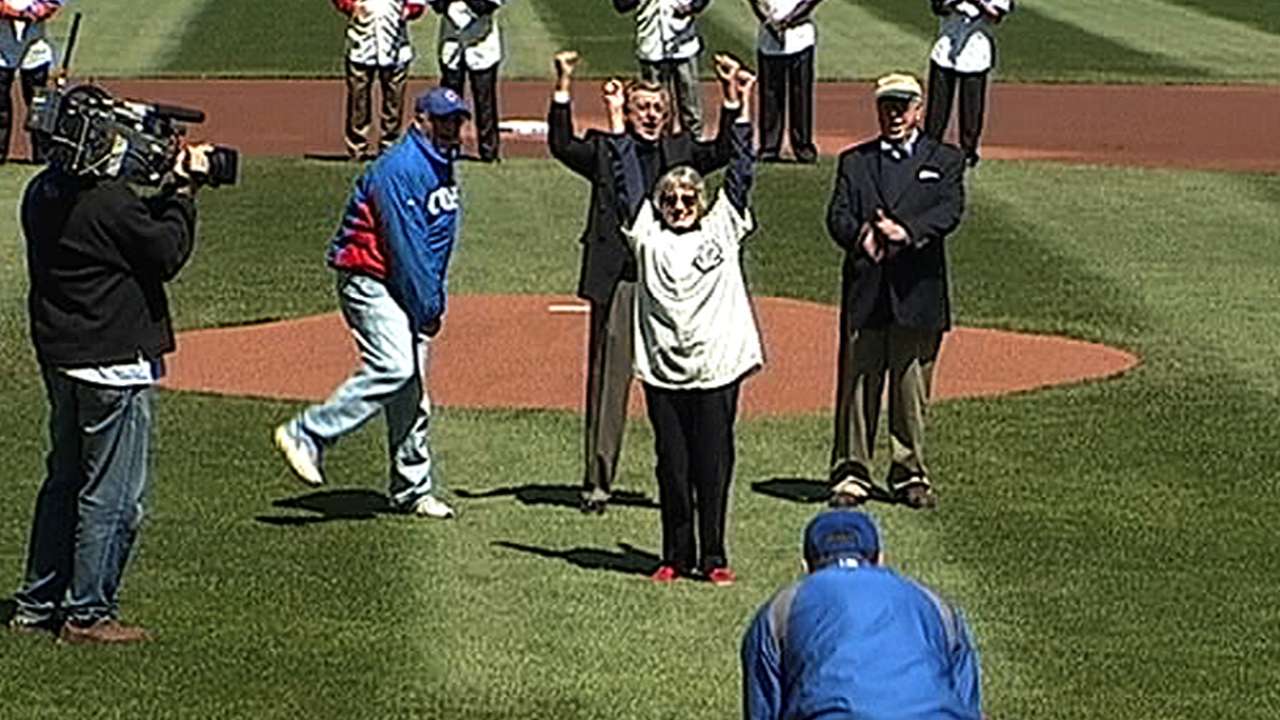 CHICAGO -- Anthony Rizzo knows how special Wrigley Field is.
"Hall of Fame players have played here, a lot of world champions have played here," the Cubs first baseman said of the ballpark, which celebrated its 100th anniversary on Wednesday.
"I'm standing in the same box that Babe Ruth stood in," Rizzo said. "As a kid growing up, everyone mimics Babe Ruth. It really is an honor to play here on a daily basis and not just today, but every day and hopefully for the rest of my career.
"This stadium was built 100 years ago; there's still steel from 100 years ago. How it's still standing, I don't know. It's unique."
There is some steel and concrete remaining from when the ballpark was first built in 1914, located mostly in the dugout area.
"I was here before they started with the lights and some of the other transitions they made," Cubs bullpen coach Lester Strode said. "We were close to getting to the World Series [in 2003] and I was here for that one as well. This is a big day not only for me, but a lot of fans and players, past and present. I'm glad to be a part of it."
The Cubs and Diamondbacks players both wore throwback uniforms. The Cubs had on versions from the 1914 Chicago Federals, and Strode needed a little help from infielder Luis Valbuena on how to wear his stirrups.
"I still don't have the feel for back in 1914," Strode said. "I know a few guys have an idea, so I'll roll with it."
Rick Renteria, in his first season as the Cubs' manager, says Wrigley has played fair, and he has no complaints.
"I think pitchers need to keep the balls down in the zone," Renteria said. "If they execute just like in any ballpark, they can get outs. We have to make sure we stay on our toes and catch the ball. Obviously, this is a park that when the wind is blowing out, you have a chance to drive the ball out of the ballpark."
The manager remembers his first day at Wrigley back in September 1986. He had been called up to the Pirates that month.
"I just remember being in the clubhouse, and the visiting clubhouse is significantly smaller than the home clubhouse, but nonetheless, you're in the big leagues and you're in a ballpark that has a lot of history," Renteria said.
"I wanted to get on the field and take it in. There's a lot of history here, obviously, and it's a great city. I think it's a nice ballpark to play in. The fans bring a lot to the table. Hopefully, we can give them a lot to cheer for."
Said Rizzo: "It'll never get old playing here."
Carrie Muskat is a reporter for MLB.com. She writes a blog, Muskat Ramblings, and you can follow her on Twitter @CarrieMuskat. Teddy Cahill is a reporter for MLB.com. Follow him on Twitter at @tedcahill. This story was not subject to the approval of Major League Baseball or its clubs.