Schierholtz close to mom despite long distance
Outfielder grateful for mother's guidance, assistance in baseball career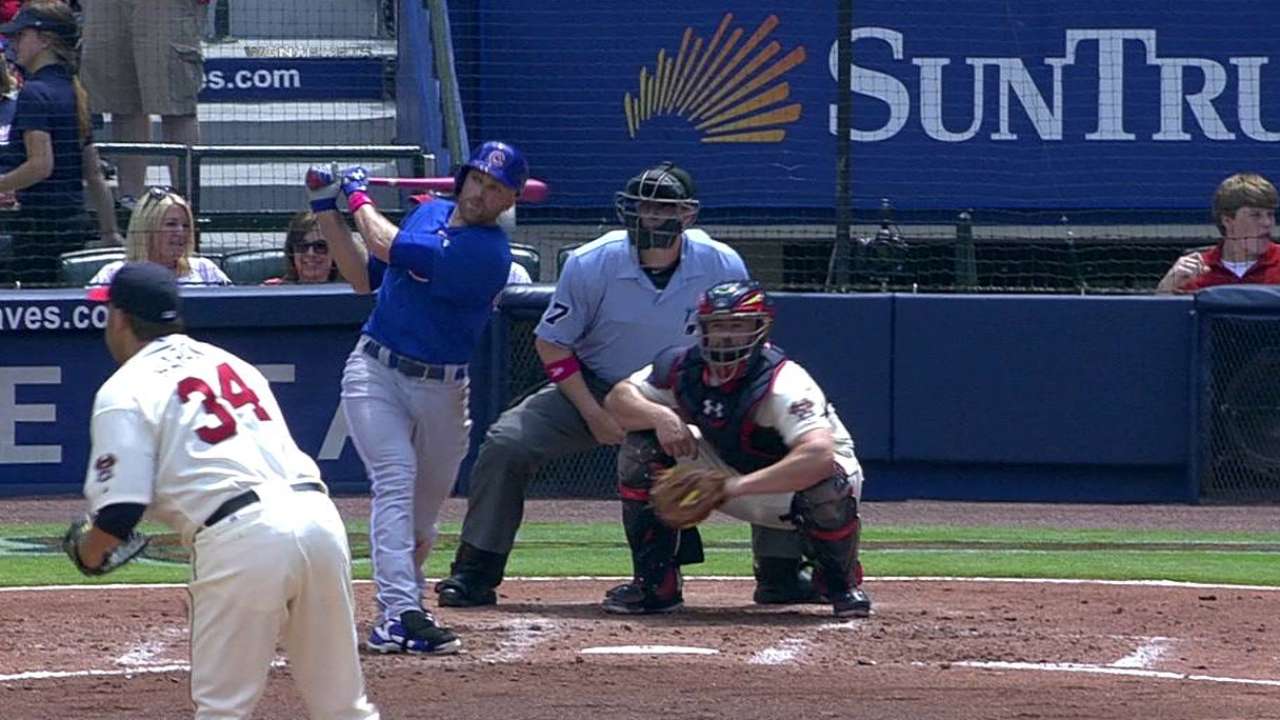 ATLANTA -- When Cubs outfielder Nate Schierholtz stepped to the plate carrying a pink bat on Mother's Day, he thought of his early days of batting practice when his mother, Karen, threw him pitches that helped him begin his path to the Majors.
"She'd be out in the yard throwing Wiffle balls and tennis balls," Schierholtz said before hitting a two-run double with a pink bat in Sunday's 5-2 loss to the Braves. "One time I hit her with a line drive with a baseball, so I felt bad about that, but she was always there to work with us."
As Schierholtz learned baseball, so did his mother. Karen, originally from England, did not become familiar with the game until Schierholtz first took interest. Schierholtz appreciates not only his mother's support of his baseball career, but her commitment to giving her children a happy childhood.
"My mom raised four kids and worked her life for us, so I have a lot to be thankful for today," Schierholtz said.
Schierholtz Skyped with Karen, who now lives in Hong Kong with Schierholtz's stepfather, Saturday night to squeeze in some face time before Mother's Day ended in Asia. He plans to make his first trip to Hong Kong and visit her this offseason.
Until then, Karen keeps up with Schierholtz by watching her son play, even though the first pitch has a tendency to come at odd hours.
"They can watch games there even though the time difference, it's a bit rough," Schierholtz said. "It's 13 hours, so it's usually two or three in the morning when we play our games."
Karen will watch Schierholtz face Braves starter Aaron Harang on Mother's Day. Schierholtz entered Sunday batting .250 (3-for-12) with two RBIs in his career against Harang, but he claims to have an even better lifetime batting average against his mother.
When describing his mother's scouting report, Schierholtz laughed and said, "Batting practice pitcher."
Joe Morgan is an associate reporter for MLB.com. This story was not subject to the approval of Major League Baseball or its clubs.