Cubs catch another big hitter in third round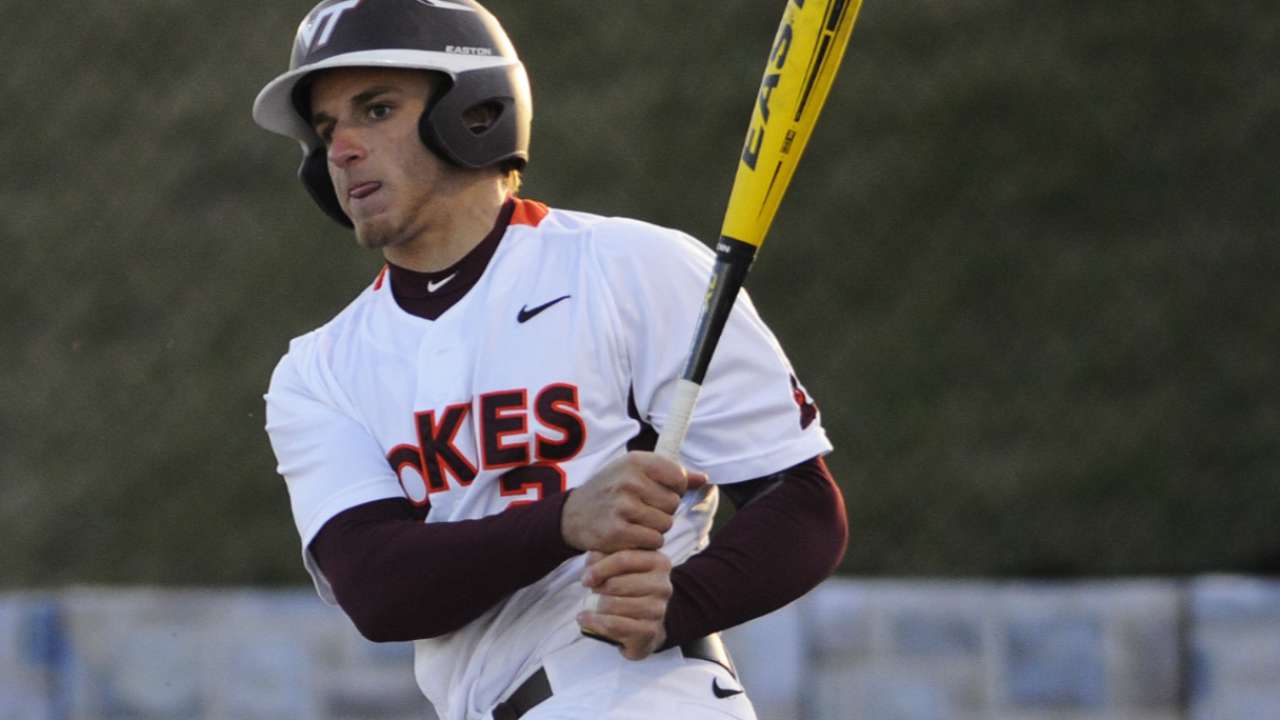 The Cubs not only need pitching, but also some catchers. That being the case, they selected backstop Mark Zagunis of Virginia Tech in the third round of the First-Year Player Draft on Friday.
On Thursday, the Cubs tabbed Indiana catcher/outfielder Kyle Schwarber fourth overall. Both Schwarber and Zagunis are finalists for the Johnny Bench Award, presented to the top collegiate catcher. Zagunis was a three-year starter at Virginia Tech.
A good athlete, Zagunis is the rare catcher who runs well.
"Not many catchers are fast and steal bases," Zagunis said in a May interview with the Roanoke Times.
"He is as relaxed and confident in the batter's box as I've seen in 17 years [of coaching]," Virginia Tech coach Patrick Mason told the Times. "Probably the best hitter I've ever coached."
Zagunis started all 53 of the Hokies' games, but he would play outfield during non-league games.
"He helps our team the most when he's catching," Mason said. "In a perfect world, I'd have him behind the plate every game."
Zagunis would like to stay behind the plate.
"I've grown to really love it," he siad. "It's, in my opinion, the toughest position on the field."
Zagunis' father Mark played baseball at Rutgers, but jokes that his son got his speed from his mother. He was not drafted out of high school.
"Coming out of high school, he ... wasn't a polished product," Mason said. "Here, he refined himself as a hitter. he refined himself as a catcher. He learned how to work a little more efficiently in the weight room. He was really strong and bulky comin gout of high school. Now he's more flexible. He's much more athletic."
Zagunis' home run totals were down this season because he strained his oblique muscle in preseason, but he finished strong. He'd hoped to be taken in the first five rounds.
"I like to think to myself that I will be there," he said of the big leagues. "That's the only way you're going to have success -- if you believe in yourself."
A two-time All-ACC second team catcher, Zagunis also made the All-ACC Academic Team. He finished his junior year ranked in six ACC career categories among active players in the league. He was third in batting average (.338), hits per game, total bases per game and stolen bases and fourth in slugging percentage (.495) and fifth in runs (141).
He's the seventh Hokie to total at least 200 hits in his junior season, and finished tied for the fourth most by the end of the season. Zagunis is the second Hokie to steal at least 50 career bases.
And he can definitey hit, leading the team in batting two of the last three seasons to join Johnny Oates (1966 and '67) as the only two catchers in school history to lead the team in that category two years.
Zagunis also can hit in the clutch, delivering three walk-off RBI hits, including two home runs. He belted a solo homer against No. 7 Florida State on May 23 in the ACC Baseball Championship to give Virginia Tech the win.
This season, he was one of four Hokies to start all of their games -- 40 at catcher, eight in right field, one each in center and left, and three as the designated hitter. He led the team with 23 multi-hit games. He was the only player in the ACC at the end of the regular season with at least 20 multihit games and more than 10 multi-RBI games, and he ranked in the top 10 in five categories.
For the year, he led the team with a .330 batting average, 44 runs scored and 69 hits, and was second in slugging percentage (.426), RBIs (39), doubles (10), triples (two), home runs (two), total bases (89), walks (32), and stolen bases (16).
A sociology major at Virginia Tech, Zagunis earned varsity letters all four years playing at Holy Cross High School in New Jersey, and he was a 2011 Louisville Slugger High School All-American. He also played football and basketball.
The Draft concludes on Saturday, with exclusive coverage of Rounds 11-40 beginning on MLB.com at noon CT.
Carrie Muskat is a reporter for MLB.com. She writes a blog, Muskat Ramblings, and you can follow her on Twitter @CarrieMuskat. This story was not subject to the approval of Major League Baseball or its clubs.