Round 5 delivers Steele's live arm to Cubs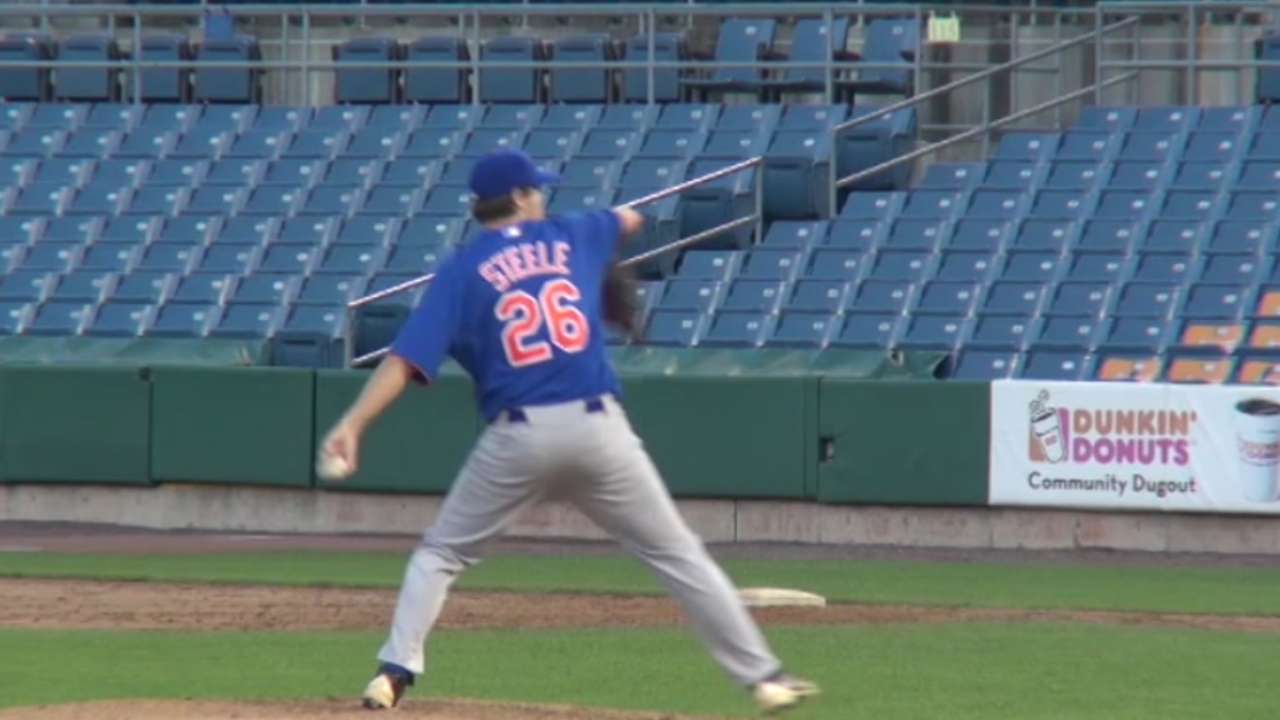 Justin Steele may not have the size of some pitchers, but the Cubs liked enough of what they saw of the left-hander to select the prepster in the fifth round of the 2014 First-Year Player Draft on Friday.
Steele was the third pitcher the Cubs took in the Draft, and the first Mississippi high school pitcher selected in the first five rounds since the Braves picked Matt Butler in 1999.
MLB.com's Jim Callis said Steele's velocity was better this spring and his changeup had some good movement.
"Even though he's smaller, he's fairly athletic," Callis said. "I think he has a chance to start."
The Lucedale, Miss., native was able to pitch after he fractured his left wrist sliding into home plate in a summer league game in September. Steele needed surgery to insert a screw in the scaphoid bone.
Steele's father, Ben, played football at Alabama in the mid-1980s and his older brother, Jordan, pitched at Mississippi Gulf Coast Community College.
"Justin is extremely competitive, and he has a God-given ability to throw the fastball," George County coach Brandon Davis said last year in an interview with GulfLive.com. "His mentality when he's on the mound, he wants to get everybody out. But he's got the mentality to handle it when he doesn't get everybody out. That's what's gotten him noticed by Southern Miss and [professional scouts] who are starting to notice him as well."
Steele was 5-1 with an 0.98 ERA and 92 strikeouts over 43 innings pitched his senior season. He earned Class 5A Player of the Year honors, and threw no-hitters against Pascagoula and East Central.
During a workout at the East Coast Professional Showcase last summer, Steele's fastball was in the low-90s. MLB.com's scouting report says the lefty is better when he can throw with less effort in his delivery.
At 6-foot 1 and 180 pounds, Steele may wind up in a big league bullpen rather than the rotation. He prepped at George County High School, and he signed a letter of intent last fall to attend Southern Mississippi.
In his junior season at George County, Steele was 7-3 with a 1.94 ERA and 98 strikeouts over 61 1/3 innings. He also played some first base, outfield and was the designated hitter, batting .326 with six doubles, three home runs and 23 RBIs.
According to GulfLive.com, he's the first George County player drafted since 2011 when outfielder Mason Robbins was picked by the Mets in the 20th round.
The Draft concludes on Saturday, with exclusive coverage of Rounds 11-40 beginning on MLB.com at noon CT.
Carrie Muskat is a reporter for MLB.com. She writes a blog, Muskat Ramblings, and you can follow her on Twitter @CarrieMuskat. This story was not subject to the approval of Major League Baseball or its clubs.