Baker, Renteria mourn 'wonderful' Gwynn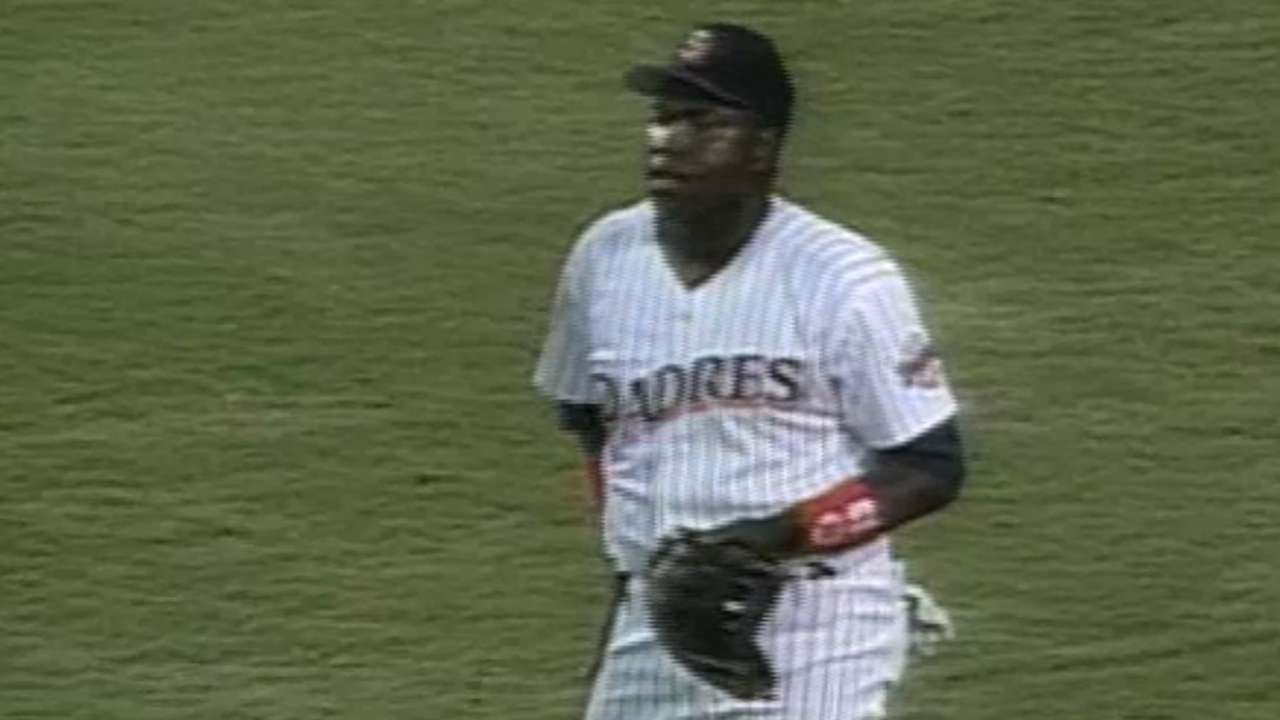 MIAMI -- Catcher John Baker talked to Tony Gwynn Jr. on Sunday when the Cubs were wrapping up their series against the Phillies, and had asked for an update on the outfielder's father, who was battling cancer.
"He said he thought he was doing much better," Baker said Monday.
On Monday, Hall of Famer Tony Gwynn died after a long battle with salivary gland cancer. He was 54.
"For me, the day after Father's Day -- that's the hardest part for me is to think about Junior," said Baker, who played for the Padres from 2012-13 and got to know father and son.
"Tony still talked to you like a regular person, which I think sometimes doesn't happen with some of the superstar players and the Hall of Famers," Baker said. "Tony talked to you man to man, eye to eye about real things. I really appreciated his presence and him being around.
"He's one of the greatest hitters in the history of baseball, plus he was really nice," Baker said. "Then I get to meet his kid and see how he was raised and see what kind of person Tony Gwynn Jr. is, and I'd like to think it's a great example of what a father is supposed to be because of the child he raised. It's a really sad day for baseball."
Cubs broadcaster Jim Deshaies was saddened by the news. Gwynn had more hits off Deshaies than any other batter (18), and was 18-for-52 (.346). Former Cubs pitcher Greg Maddux posted on Twitter: "Tony Gwynn was the best pure hitter I ever faced! Condolences to his family." Gwynn batted .429 (39-for-91) off Maddux, and the pitcher never struck him out.
Cubs manager Rick Renteria spent six seasons on the Padres' Major League staff, and he also managed in San Diego's Minor League system. He knew how much impact Gwynn had on the team.
"Tony Gwynn was the Padres," Renteria said. "Here's a guy who spent his whole career there, did a lot of good there, was a tremendous player. His son ... if he's any reflection of his father, he'll be a wonderful person."
Renteria never talked hitting with Gwynn.
"He was a great, great hitter, and a great baseball player, and obviously, a Hall of Famer," Renteria said. "As much as everybody will miss the baseball player, the man will be missed even more."
Baker didn't ask for hitting tips either, but Gwynn gave them. However, they weren't intended for the catcher.
"He talked to me more about some of the other left-handed hitters on the team," Baker said. "It shows his genius -- he knew some of the younger players would listen to me when I talked to them, and maybe they'd be turned off if Tony Gwynn told them something.
"There would be a couple times when he'd come up to me and sit down and tell me what he wanted Yonder Alonso to start doing," Baker said. "He'd try to get me to relay the information in a different way. He'd say, 'I've told him the same thing, but maybe if he hears it from you, it'll sink in."
Carrie Muskat is a reporter for MLB.com. She writes a blog, Muskat Ramblings, and you can follow her on Twitter @CarrieMuskat. This story was not subject to the approval of Major League Baseball or its clubs.