Second-rounder Stinnett among Cubs' signings
Maryland righty inks deal below slot value; picks from Rounds 4, 5, 7 agree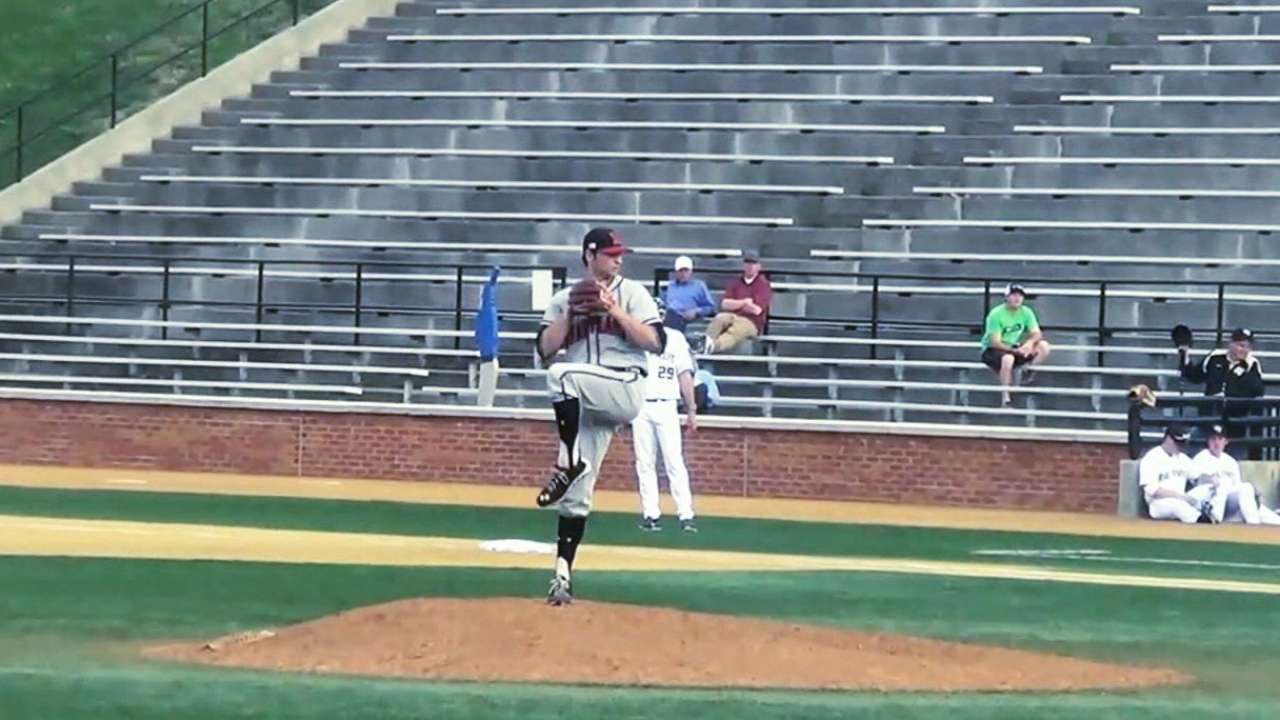 DES MOINES, Iowa -- The Cubs signed four more of their picks from the First-Year Player Draft, including second-round selection Jake Stinnett and high school pitchers Carson Sands and Justin Steele.
Stinnett, 22, signed for $1 million, which was below the slot value of $1.25 million. The right-hander was 8-6 with a 2.67 ERA in 17 games for Maryland this season, his senior year. He struck out a school single-season record and Atlantic Coast Conference-high 132 batters and walked just 30. Stinnett led the ACC in complete games and innings pitched, and he became the seventh pitcher in program history to throw a no-hitter, on March 1 against Massachusetts.
With the Cubs signing first-round pick Kyle Schwarber and Stinnett below the slot amounts, the club was able to spend more on the high school pitchers it selected, such as the 19-year-old Sands, a fourth-round pick who agreed to a $1.1 million bonus. The lefty was 11-1 with a 0.58 ERA and one complete game in 14 outings (12 starts) for North Florida Christian this past season. He struck out 100 in 60 2/3 innings and walked 24. Sands pitched for Team USA for three summers, winning a gold medal with the 18-and-under team in 2012.
Steele, 18, the Cubs' fifth-round selection, signed for $1 million. He was 5-1 with a 0.98 ERA in eight games for George County (Miss.) this past season, striking out 92 in 43 innings.
The Cubs also signed seventh-round pick James Norwood, 20, who went 8-2 with a 2.68 ERA in 15 starts this season to cap a three-year college career at St. Louis University.
Other Draft picks to have signed with the Cubs include Brad Markey (19th round), John Tomasovich (20th), Charles White (21st), Tyler Pearson (25th), Zach Hedges (26th) and Calvin Graves (27th).
Carrie Muskat is a reporter for MLB.com. She writes a blog, Muskat Ramblings, and you can follow her on Twitter @CarrieMuskat. This story was not subject to the approval of Major League Baseball or its clubs.