Lake 'feeling good' after scary collision with wall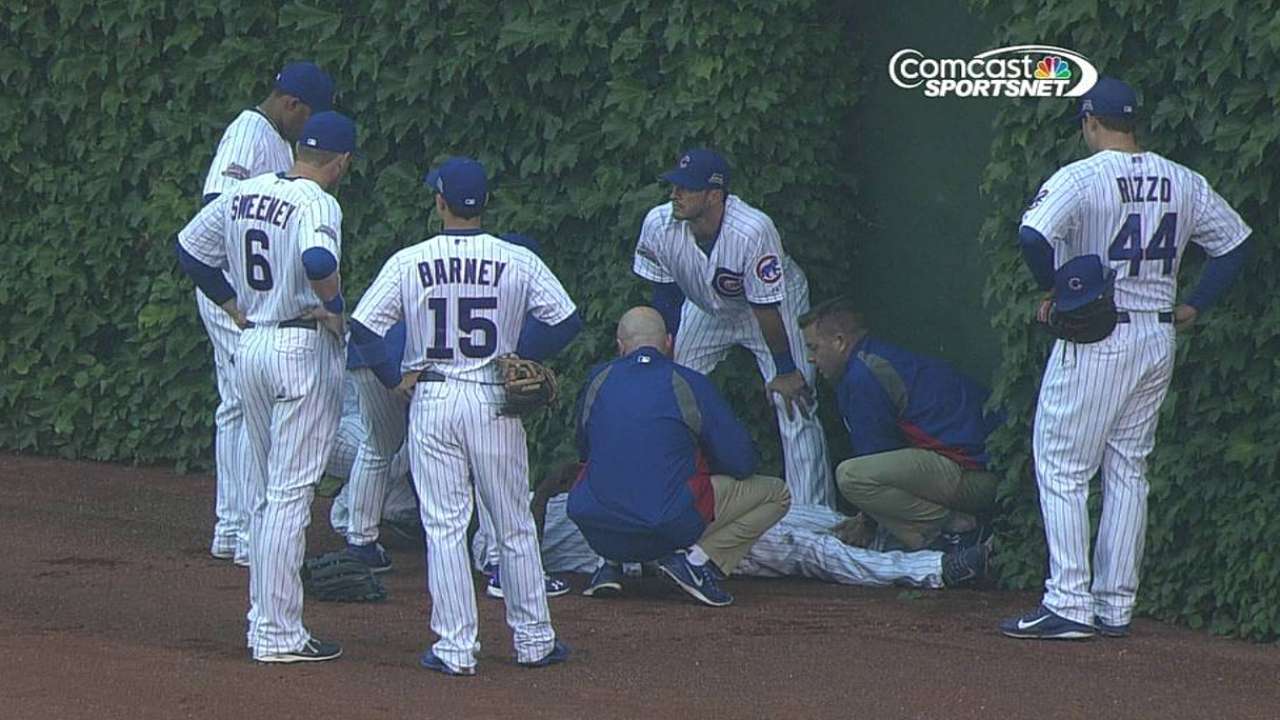 CHICAGO -- Fortunately for Junior Lake, he was able to laugh about his head-on collision with the outfield wall.
"I went too fast into the wall," Lake said Friday of his crash into the metal door in the second inning of Thursday night's 5-3 win over the Nationals. "When I looked again, I was too close to the wall, and when I dove, I hit the door. That's crazy. But I'm feeling good."
Lake came out of the game after the freak accident, suffering bruises on his head and left leg, although he did try to talk the medical staff, including team physician Dr. Stephen Adams, into letting him keep playing.
"[Adams] asked me, 'Do you know where you are?' And I said, 'Yeah,'" Lake said. "I said, 'I'm alive.' That's when I started laughing."
Cubs president of baseball operations Theo Epstein said they may talk about whether or not to add padding to the metal doors in the outfield wall. The ivy does provide a little cushioning, but the outfielders know to slow up once they hit the warning track. It's brick behind the greenery.
"The ivy does provide a little bit of a buffer on the brick -- you're not going to put pads on the brick," Epstein said.
Lake was available to pinch-hit on Friday, said manager Rick Renteria, who was impressed by the outfielder's effort.
"For him, it could've been a sponge wall and the effort he gave was going to be the same," Renteria said. "I don't think guys think about the wall, to be honest."
Carrie Muskat is a reporter for MLB.com. She writes a blog, Muskat Ramblings, and you can follow her on Twitter @CarrieMuskat. This story was not subject to the approval of Major League Baseball or its clubs.