Back in Boston, Rizzo making bid for All-Star Game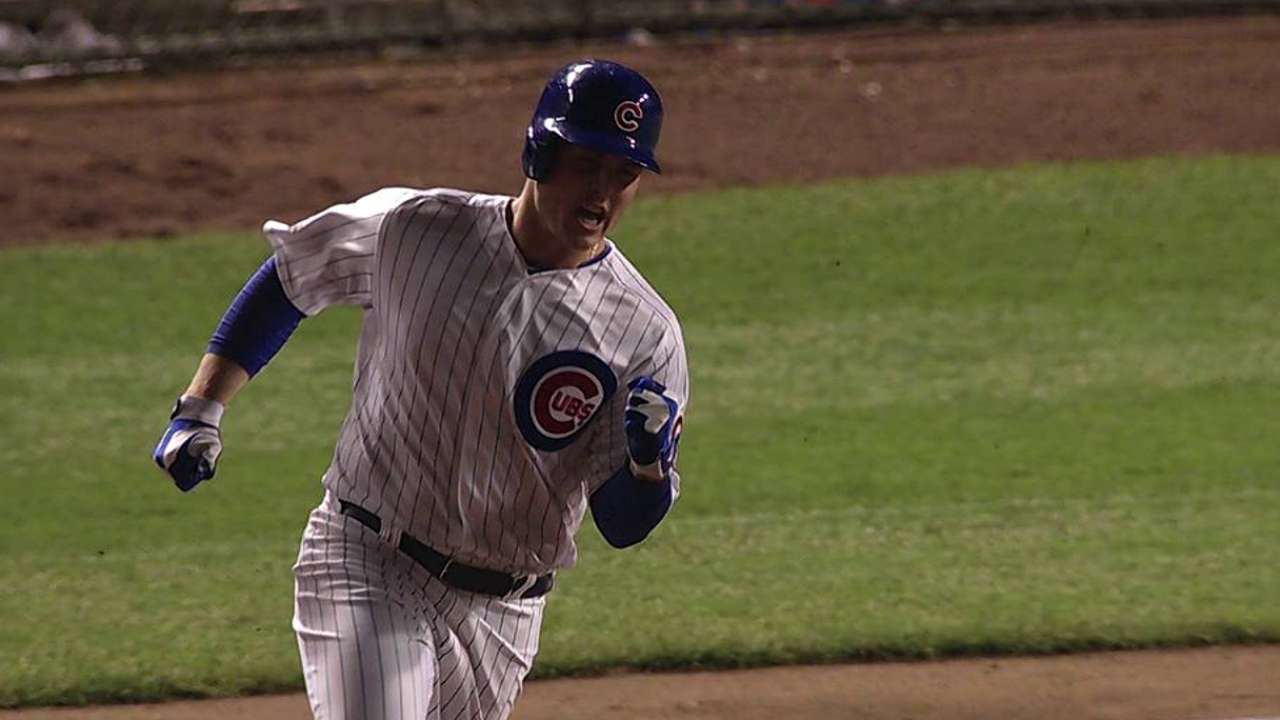 BOSTON -- Anthony Rizzo watched the World Series last year, but says he didn't think for a minute that it could've been him playing first base for the Red Sox.
Rizzo came up through Boston's system, but he was dealt to the Padres in December 2010 for Adrian Gonzalez. The Cubs then acquired Rizzo in January 2012.
"If I was the [Red Sox] first baseman last year, I'd have a nice shiny ring on," Rizzo said Monday. "As a kid, even when you get drafted, you play for an organization, but you play for the other teams out there. You just have that organization's name on you. I know first hand -- you're playing for a lot of other teams as well."
It was tough for Rizzo to be traded. He admits he felt "untouchable," and he has some bad memories from his days in Boston. He was diagnosed in April 2008 with limited stage classical Hodgkin's lymphoma.
"We passed [Massachusetts] General Hospital, and I didn't think it would, but it brought back a few knots in my stomach," Rizzo said of one of the places he had treatment.
Rizzo passed the facility on his way to do a Boston Ducks tour, his third in Boston. Life is good now. The first baseman has 14 homers since April 30, the most in the National League in that stretch. He's one of the Cubs' candidates for the All-Star Game, to be played July 15.
Manager Rick Renteria was in the Padres' organization when they acquired Rizzo, and he said they could see the first baseman's potential then.
"I think when we got him, everybody was extremely happy to have him there because he could develop into part of the future," Renteria said. "As long as he continues to perform and adjust, we're hopeful he'll have a very, very good career."
But Rizzo, who watches the World Series every year, doesn't have that ring.
"You respect it," Rizzo said. "You respect whoever wins, and it doesn't matter if it's the Cardinals or a team we don't play, like the Red Sox. You respect that they had a goal in Spring Training, and they got better every day and they won their division, which is not easy to do here, and they won the playoffs.
"I still get chills watching the reactions from the guys," he said. "It's something I just respect how hard it is to get to that point, and I don't even know how hard it is."
Fans can cast their votes for starters at MLB.com and all 30 club sites -- online or on a mobile device -- using the 2014 All-Star Game MLB.com Ballot Sponsored by Experian until Thursday at 10:59 p.m. CT. The 2014 All-Star Game will be played at Target Field on Tuesday, July 15.
Fans may submit up to 25 online ballots, but they can also earn a one-time bonus of 10 additional online ballots. To access these additional online ballots, you must be logged into your MLB.com account when you submit any online ballot. If you do not have an MLB.com account, register on the site in accordance with the enrollment instructions for a free MLB.com account.
Fans this year once again can participate in the Home Run Derby Fan Poll. Fans will have the opportunity to select three players in each league who they would most like to see participate in the Gillette Home Run Derby. The 2014 Home Run Derby will be broadcast live on ESPN, ESPN HD, ESPN Deportes and ESPN Radio in the United States beginning at 7 p.m. on Monday, July 14.
The 2014 American League and NL All-Star teams will be unveiled on the Taco Bell All-Star Selection Show on Sunday, beginning at 6 p.m. on ESPN, with further details to follow on MLB.com. Immediately following the announcement of the AL and NL All-Star rosters, fans can begin voting to select the final player for each league's 34-man roster via the 2014 All-Star Game MLB.com Final Vote Sponsored by Experian. Fans will cast their votes from a list of five players from each league over the balloting period.
And the voting doesn't end there. The final phase of All-Star Game voting will again have fans participating in the voting for the Ted Williams All-Star Game Most Valuable Player Award presented by Chevrolet. During the Midsummer Classic, fans will vote exclusively online at MLB.com via the 2014 All-Star Game MLB.com MVP Vote Sponsored by Pepsi, and their voice will represent 20 percent of the overall vote that determines the recipient of the Arch Ward Trophy.
MLB.com will provide extensive online coverage of the All-Star Week festivities.
The 85th All-Star Game will be televised nationally by FOX, in Canada by Rogers Sportsnet and RDS, and worldwide by partners in more than 200 countries via MLB International's independent feed. ESPN Radio and ESPN Radio Deportes will provide national radio coverage of the All-Star Game. MLB Network and SiriusXM will also provide comprehensive All-Star Week coverage. For more information, please visit allstargame.com.
Carrie Muskat is a reporter for MLB.com. She writes a blog, Muskat Ramblings, and you can follow her on Twitter @CarrieMuskat. This story was not subject to the approval of Major League Baseball or its clubs.