Samardzija to be missed by friends on Cubs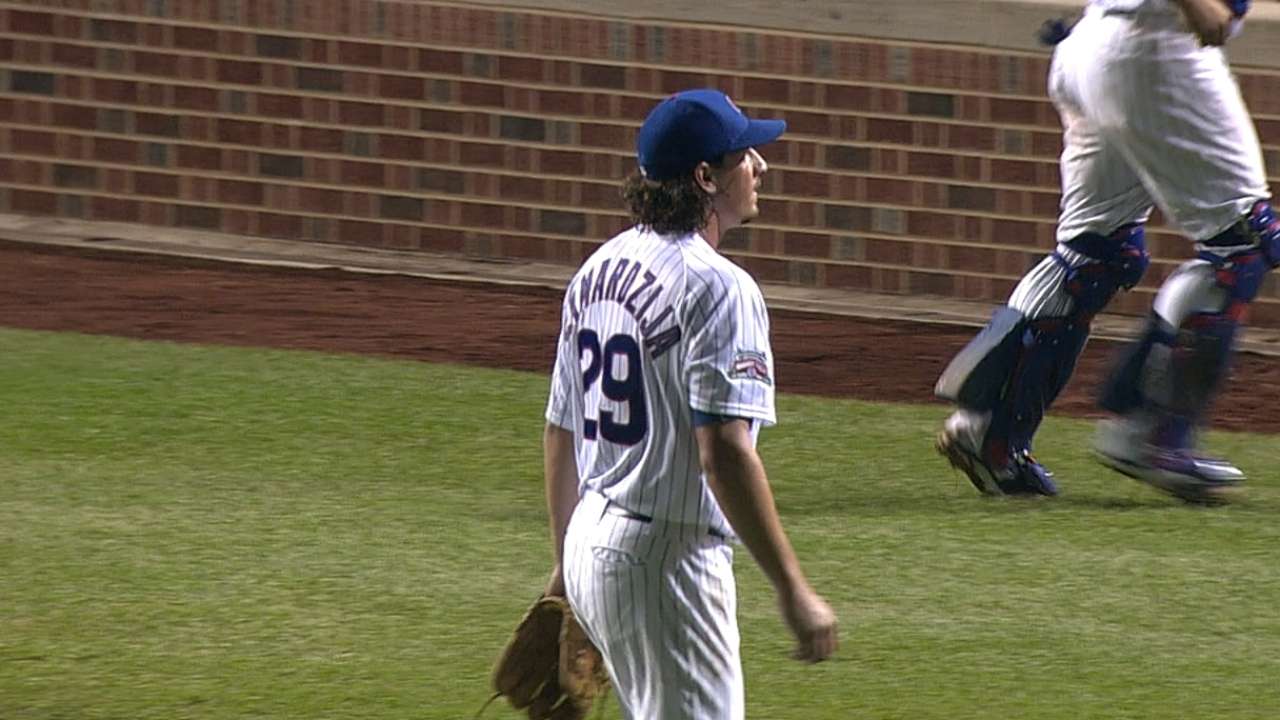 WASHINGTON -- While talking to reporters on Saturday afternoon, James Russell gazed across the visitors' clubhouse at an empty locker that formerly belonged to his friend and teammate Jeff Samardzija, whom the Cubs traded to the Athletics along with Jason Hammel late Friday night.
Russell said he and Samardzija met up briefly to say farewell after being informed of the deal.
"It's just tough to see your boys leave," Russell said.
Russell, a 14th-round pick in the 2007 First-Year Player Draft, and Samardzija, a fifth-round pick in '06, came up together through Chicago's farm system and spent time as teammates for Triple- A Iowa before joining the Major Leagues. Second baseman Darwin Barney, a fourth-round pick in 2007, was also a part of those Minor League teams in 2009 and '10.
"Losing friends is tough in this game," Barney said. "It's not always that you find friends that you've been with since you've been drafted. Jeff's been in this organization for a long time and I've known him for a little bit. So it's hard. It's hard to lose a guy that's been here for eight years in this organization. And our goal all the way up has been to win a championship here in Chicago. And unfortunately, that's not his goal anymore."
Barney's goodbye with Samardzija was not as smooth as Russell's, though.
"It's always weird to say bye to a dude," Barney joked. "What do you do? Do you slap hands? Do you hug?"
The deal sent Samardzija and Hammel to Oakland for prospects Addison Russell and outfielder Billy McKinney, as well as right-hander Dan Straily. Russell becomes yet another talented middle infielder in the Cubs' farm system, which Barney said makes him uneasy, especially considering the front office's willingness to execute trades the past few seasons.
"In the back of your mind, you're thinking 'Who's next? Is it me?'" Barney said. "But you've got to try and put that aside and focus on today."
Starlin Castro, who is putting together an impressive 2014 campaign as the Cubs' starting shortstop, is taking a similar approach to Barney when it comes to Russell's addition.
"I don't put this in my mind," Castro said. "Just keep playing hard here and whatever happens, happens. It doesn't matter."
Manager Rick Renteria said he held a team meeting before the Cubs took the field for batting practice Saturday.
"I let them know that we've lost two teammates, two friends," Renteria said. "And the reality is that there are things that we can't control. And the things that they can control are continuing to play the game. Go out there and continue to grind them out. Go out there and keep doing what they're doing. Obviously those two guys set examples. … Let's show them what they've taught us, we can continue to do."
And James Russell, who could also be shopped before the non-waiver Trade Deadline at the end of the month according to multiple reports, is heeding his skipper's advice by viewing the situation in a positive light.
"Maybe in a year and a half we'll cross paths again and find ourselves in the same city," Russell said.
Carrie Muskat is a reporter for MLB.com. She writes a blog, Muskat Ramblings, and you can follow her on Twitter @CarrieMuskat. Daniel Popper is an associate reporter for MLB.com. He also can be found on Twitter @danielrpopper. This story was not subject to the approval of Major League Baseball or its clubs.