Castro to represent Cubs at All-Star Game
Samardzija also honored, but he won't play after trade to A's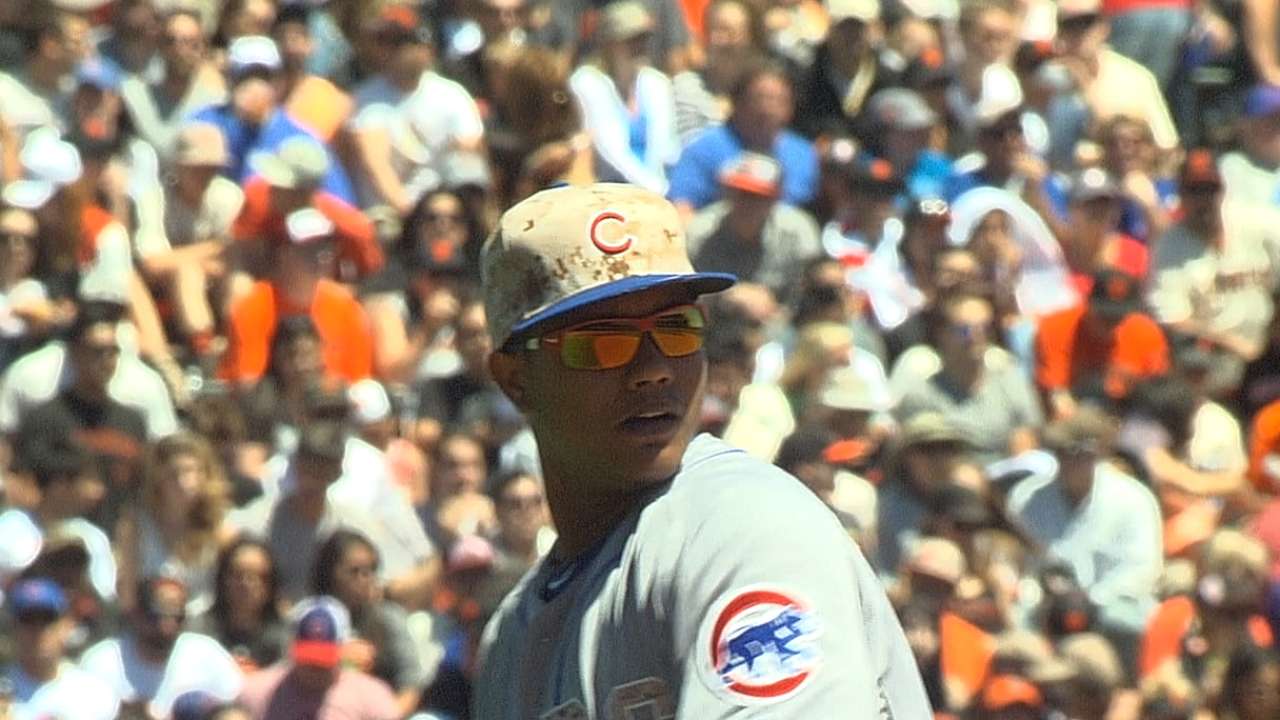 CHICAGO -- It was last November when Starlin Castro began the long process to return to All-Star form. That's when the Cubs' shortstop started workouts in the Dominican Republic with strength coach Tim Buss.
Castro wasn't happy with his 2013 season, when he struggled to hit .245. The two trained twice a day, spending long hours in the heat. It wasn't easy, and on Sunday, Castro was rewarded.
Castro was named to the National League All-Star team along with former teammate Jeff Samardzija, who was traded to the Athletics on Saturday. Both Castro and Samardzija were voted in by the players. Last year, pitcher Travis Wood was the Cubs' lone All-Star representative.
"After that bad year last year, that's what we're looking for -- make it a good year this year," Castro said in Washington after the Cubs' 2-1 loss. "Make it to the All-Star Game. And come back on that level.
"[It feels] awesome," Castro said. "Everybody in my family is happy, too. I called them right away and they celebrated at home."
Samardzija, who picked up a win in his first start for Oakland on Sunday, will be able to attend the game as a member of the NL squad, but he will not play in the game because of the trade. The right-hander, who was 2-7 with a 2.83 ERA in 17 starts with the Cubs, will be replaced on the roster in the same way a pitcher who throws the Sunday before the All-Star Game is replaced.
"I think that the fact that he was recognized for his performance in and of itself speaks to that," Cubs manager Rick Renteria said of Samardzija. "Good for him."
Samardzija, 29, is the first right-hander to earn All-Star honors for the Cubs since Ryan Dempster, Carlos Marmol, Kerry Wood and Carlos Zambrano all were named to the NL team in 2008.
"Random happening. I don't think it's ever happened before, and I don't think anyone knew I was going to be an All-Star before the trade," Samardzija said. "It just happened to be that way. I won't get to pitch, which is a bummer, but that's all right. I'll just go through the ceremony and then jump over to the AL dugout with an NL jersey on and have fun with the six other guys we have over there.
"You care about putting a whole season together, but this means you got off to a good start, your first few months went well. Most importantly, it's respect from your fellow players. That feels good. It means they're noticing what you're doing and they respect it, and that means a lot."
For Castro, it will be his third trip to the All-Star Game, which will be played on July 15 in Minneapolis.
"He's done a great job," Cubs first baseman Anthony Rizzo, an NL Final Vote nominee, said of Castro. "He's not trying to hit home runs or anything. It's not about that, it's about getting on base and letting other guys do the job."
Castro, 24, is the third shortstop in franchise history to be selected to at least three All-Star teams, joining Ernie Banks (nine times as a shortstop) and Don Kessinger (six times). Castro is one of only six shortstops to be named an All-Star in franchise history, joining Banks, Kessinger, Billy Jurges (once), Woody English (once) and Shawon Dunston (twice).
In 2011, Castro became the youngest player in franchise history to be named to an All-Star team at the age of 22. Castro, Dunston and Kessinger are the only three Cubs shortstops to earn All-Star honors in the last 50 years.
Castro leads all Major League shortstops with 38 extra-base hits and is one of four players in baseball with 12 games of three or more hits. This season has been a complete turnaround from 2013.
"There's a lot of hard work that I did, especially with [Buss], who helped me a lot," Castro said of their month together in the Dominican. "I think last year helped me, too, making my mind a little stronger. And I think that also happened this year. I worked really hard. I didn't think about bad habits, all the negative things. [I just thought about] positive things and to be at an All-Star level again."
One of the keys to Castro's success this season is that Renteria inserted him into the No. 4 spot in the lineup on April 25, and left him there, even though the shortstop isn't a typical cleanup hitter.
"One thing that stands out is the base hits he gets with two strikes, fighting off good pitchers' pitches," Cubs pitcher Jake Arrieta said of Castro, who is batting .295 in the fourth spot. "And that's something that, the type of guy he is, that's kind of the step they take from already being such a good player -- just putting together such quality at-bats pretty much all year. For me, that's what stands out."
This is Renteria's first season with the Cubs and Castro, and the manager said he was impressed with the young shortstop after their first conversation.
"I just know that from the very first phone call we shared over the winter, he said he was willing to do whatever it took to get back on track," Renteria said. "And he's done it. He continues to work and chip away at different aspects of his game.
"I think he's getting better," Renteria said. "Offensively, obviously, he's come back to what you guys have seen in the past, probably early in his career. And I think defensively, he's been chipping away at playing better defense."
And now Castro hopes to get a chance to show off at Target Field.
Starlin Castro, SS
Prior ASGs: 2011-12
ASG W-L: 2-0
ASG Stats: 0-for-2
How he made 2014 NL team: Elected by player selection
Why he's an All-Star: Since moving into the cleanup spot in the Cubs' lineup, Castro, 24, has thrived, and bounced back from disappointing 2013 season when he batted .245. He's already topped his total home run and RBI totals from last season. His other goal this year? To play all 162 games.
DYK? Castro is the fourth Cubs shortstop to reach at least 21 RBIs in the month of June, joining Hall of Famer Ernie Banks (1959, 1960), Roy Smalley (1950), and Shawon Dunston (1988).
Quotable: "If it happens, I'll be really happy, me and my family. After last year, a lot of bad things happened, and it would be cool for me to be back in the All-Star Game. I feel good now physically, everything, my mind is strong."
Jeff Samardzija, P
Prior ASGs: None
ASG W-L: N/A
ASG Stats: N/A
How he made 2014 NL team: Elected by player selection
Why he's an All-Star: Samardzija ranked among the top 10 starting pitchers in ERA but couldn't get the run support to post a winning record. He also was among the NL leaders in innings pitched and strikeouts before the trade.
DYK? Samardzija was an All-America wide receiver at Notre Dame, and many teams thought he would enter the NFL Draft but wanted to focus on baseball. He was dealt Friday to the Athletics along with Jason Hammel for four players, including highly touted Minor League shortstop Addison Russell.
Quotable: Cubs president of baseball operations Theo Epstein: "He's been at the very heart of things that have gone well here the last few seasons."
Immediately following the announcement of the American League and National League All-Star rosters on Sunday, fans began voting to select the final player for each league's 34-man roster via the 2014 All-Star Game MLB.com Final Vote Sponsored by Experian. Fans can cast their votes from a list of five players from each league until the winners are announced after the voting concludes on Thursday at 3 p.m. CT.
The final phase of All-Star Game voting will again have fans help choose the Ted Williams All-Star Game Most Valuable Player Award presented by Chevrolet. During the Midsummer Classic, fans will vote exclusively online at MLB.com and via Twitter in the 2014 All-Star Game MLB.com MVP Vote Sponsored by Pepsi, and their collective voice will represent 20 percent of the overall vote that determines the recipient of the Arch Ward Trophy.
MLB.TV Premium subscribers, for the first time, will be able to live stream the All-Star Game via MLB.TV through FOX's participating video providers. Access will be available across more than 400 platforms that support MLB.TV, including the award-winning MLB.com At Bat app. MLB.com will provide extensive online coverage of the All-Star Week festivities.
The 85th All-Star Game will be televised nationally by FOX, in Canada by Rogers Sportsnet and RDS, and worldwide by partners in more than 200 countries via MLB International's independent feed. ESPN Radio and ESPN Radio Deportes will provide national radio coverage of the All-Star Game. MLB Network and SiriusXM will also provide comprehensive All-Star Week coverage. For more information, please visit allstargame.com.
Carrie Muskat is a reporter for MLB.com. She writes a blog, Muskat Ramblings, and you can follow her on Twitter @CarrieMuskat. This story was not subject to the approval of Major League Baseball or its clubs.