Future is now for Cubs pitching prospects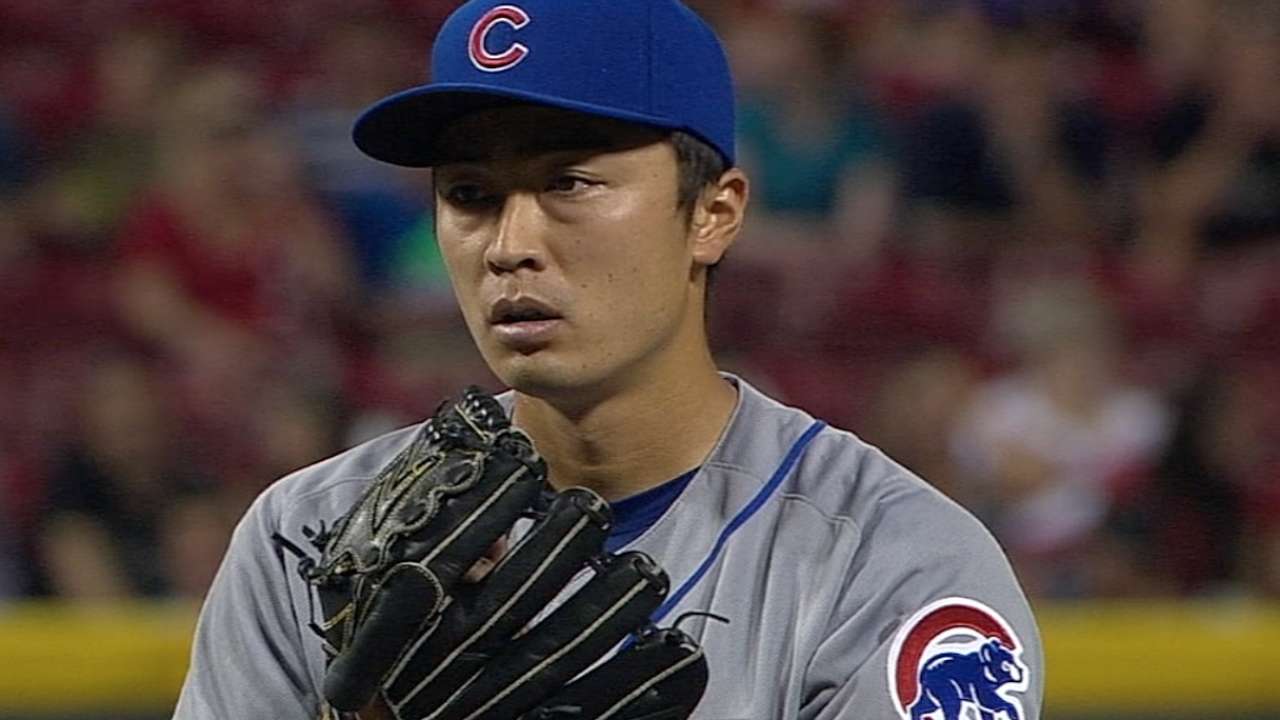 CINCINNATI -- The Trade Deadline doesn't just affect the Major League team but has a ripple effect. With Jeff Samardzija and Jason Hammel now in the Athletics' rotation after being dealt last Friday, the Cubs have openings for starting pitchers. The future is now for some of the Minor Leaguers.
"For them, [the trade] seems to open up opportunities to get to the big leagues," manager Rick Renteria said Wednesday. "They're excited. Fortunately for us, We have a very well-stocked Minor League system. ... Time soon enough will open the door for a lot of those kids."
Dallas Beeler made his second big league start Wednesday for the Cubs, and Kyle Hendricks was to make his Major League debut on Thursday in the series finale against the Reds. Japanese pitcher Tsuyoshi Wada made his first U.S. start on Tuesday in the second game of a doubleheader.
It's the first time since 1948 that the Cubs have had three pitchers make their big league debuts in a 13-day span or less. According to Elias, Bob Rush (April 22), Cliff Chambers (April 24) and Dutch McCall (April 27) did so in a six-day span that year.
Hendricks will be the 19th starting pitcher to make his Major League debut for the Cubs in the last 15 seasons, starting in 2000.
The pitchers aren't the only ones. Infielder Arismendy Alcantara got his first big league start Wednesday at second base, subbing for Darwin Barney, who was on paternity leave.
"There are a lot of players down there [at Triple-A Iowa]," Hendricks said. "That lineup we had, it made it real easy as a pitcher. You might give up one or two in the first, but if you keep your team in the game, they're going to score you some runs.
"The bottom line is nobody is really thinking about the big leagues too much," he said. "They're focused on what they have to do down there and what they have to do to get better."
It must be tough to not be impatient.
"I don't know if impatient is the right word," Hendricks said. "It's hard not to think about it. Bottom line, you have to go out there every day and win at Triple-A and if you do what you have to do, it'll take care of itself."
Cubs fans are eager to see third baseman Kris Bryant, who has 30 home runs -- 22 at Double-A Tennessee, eight with Iowa.
"He's definitely the best player I've ever played with," Hendricks said. "The first two or three games he played in, and I was like OK, he's going to need time to adjust a little, but it took two games, and he's just been ripping the cover off the ball. He spreads them out everywhere -- right field, center field, left, it's unbelievable. He's one of the many guys there who can hit."
Carrie Muskat is a reporter for MLB.com. She writes a blog, Muskat Ramblings, and you can follow her on Twitter @CarrieMuskat. This story was not subject to the approval of Major League Baseball or its clubs.