Alcantara makes Major League debut vs. Reds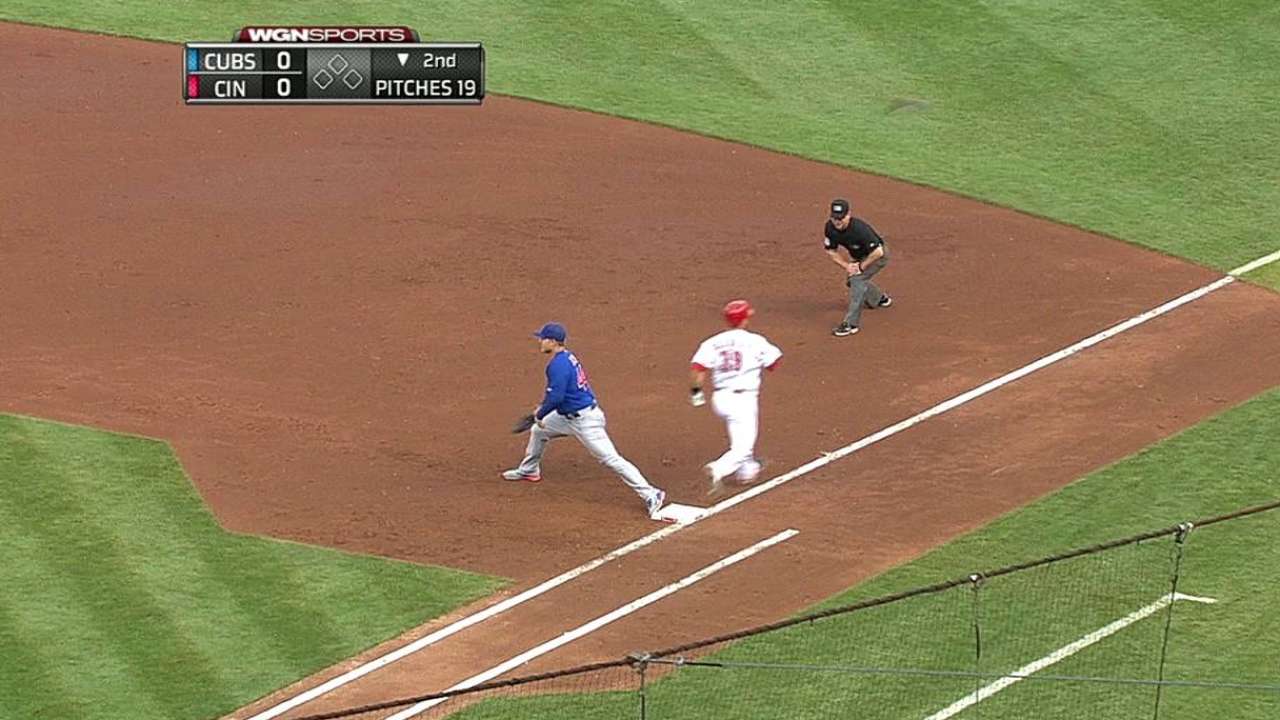 CINCINNATI -- Cubs manager Rick Renteria didn't waste any time getting Arismendy Alcantara in the lineup. The second baseman, called up from Triple-A Iowa while Darwin Barney is on paternity leave, was in the starting lineup Wednesday and batted second.
And he was very excited to be with the big league team. Alcantara went 0-for-4 in the Reds' 4-1 victory, but picked up an assist when he threw out Ramon Santiago, trying to extend a double to a triple, at third base in the second inning.
"It means a lot," Alcantara said before the game. "One of my dreams is to be in the big leagues and I'm going to enjoy it as much as I can. I'm just going to try to do my job. ... If I do good, they can bring me back."
Barney was expected back Friday. He flew to Chicago early Wednesday to be with wife, Lindsay, for the birth of their third child.
"He should be in there," Cubs manager Rick Renteria said of Alcantara, 22, who was batting .308 with 10 home runs, 24 doubles, 11 triples and 21 stolen bases in 88 games at Iowa. "Hopefully, he's able to enjoy it and be himself. He's been doing very well this season and hopefully he feels comfortable with his teammates here."
Alcantara was in big league camp this spring and benefited from the experience.
"Being around the veteran guys, they can talk to you and give you something and explain it to you better," he said.
Kyle Hendricks, who will make his Major League debut on Thursday in the Cubs' series finale against the Reds, flew with Alcantara from Omaha on Wednesday. Alcantara has played second, shortstop and center field. What was Hendricks' scouting report?
"He can play any of them," Hendricks said. "His arm is so good and he put in a lot of work and it didn't take long for him to look natural out there [in center]. He runs down balls and has great speed. he's definitely a natural out there."
And he's got more power than people might think looking at Alcantara's 5-foot 10-inch, 170-pound frame.
"He's right up there with [Javier] Baez and [Kris] Bryant as far as pop," Hendricks said.
Where would Alcantara like to play?
"Everywhere -- short, second base, outfield, everywhere," he said. "I just want to see my name in the lineup."
Carrie Muskat is a reporter for MLB.com. She writes a blog, Muskat Ramblings, and you can follow her on Twitter @CarrieMuskat. This story was not subject to the approval of Major League Baseball or its clubs.