Hendricks the latest arm to make debut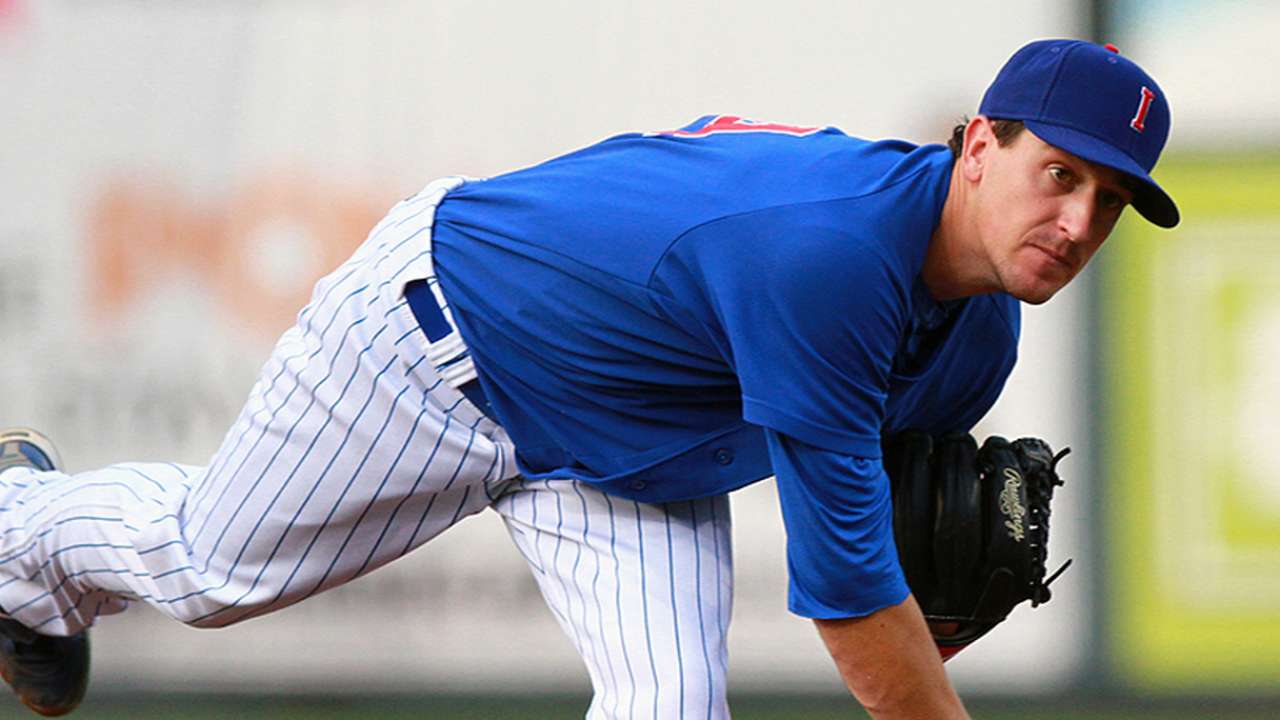 CINCINNATI -- When the pitchers at Triple-A Iowa saw that both Jeff Samardzija and Jason Hammel were traded, they started to project the openings in the Cubs rotation to see if they matched up. The big league team needed pitchers -- who would it be?
On Wednesday, Dallas Beeler was recalled for his second big league start, and on Thursday, Kyle Hendricks will make his Major League debut.
"There are a bunch of guys who could've done it, which says something about the guys we have down there," Hendricks said Wednesday. "Anybody could've come up here and filled the spot. I'm just happy I got the opportunity."
The right-hander impressed the Cubs in Spring Training and was 10-5 with a 3.59 ERA in 17 starts at Triple-A Iowa. He's developed his four-seam fastball this year and says it's made a difference.
"I usually throw mostly two-seams, but with [Iowa pitching coach Bruce Walton] down there, I've been focusing on my four seams to throw with more velocity to guys and it keeps them even more off balance on both sides of the plate," Hendricks said. "It's been a real key for me this year and I'm going to stick with it."
Hendricks wasn't sure he'd get the call because his days didn't align with the openings created by the Fourth of July trade. But in Hendricks' last start for Iowa on Sunday, he was pulled after two innings.
"I was like, 'Wait, what's going on?'" Hendricks said. "Then [Iowa manager Marty] Pevey told me what's going on. I'm just really excited for the opportunity."
He'll have plenty of family and friends at Great American Ball Park for the game, and Hendricks is trying not to look too far ahead. The Cubs have Jake Arrieta, Edwin Jackson and Travis Wood in the rotation, and have yet to decide what to do with the openings.
"These guys are coming in, they have a very calm presence about them and that's good -- it's quiet confidence," manager Rick Renteria said. "They know when they go out there and play the game, the game isn't any different. It's still 90 feet to first and 60 feet, 6 inches to the mound. It's not a foreign environment other than the place they're playing."
Hendricks is just preparing for Thursday.
"I hope they give me a real opportunity -- that's always what you want," he said. "All I can focus on is going out there tomorrow and pounding the strike zone and throwing all my pitches and doing the best I can."
Carrie Muskat is a reporter for MLB.com. She writes a blog, Muskat Ramblings, and you can follow her on Twitter @CarrieMuskat. This story was not subject to the approval of Major League Baseball or its clubs.