Expanded Wrigley renovation plans receive approval
Revised $575 million plan includes up to seven outfield signs, video scoreboard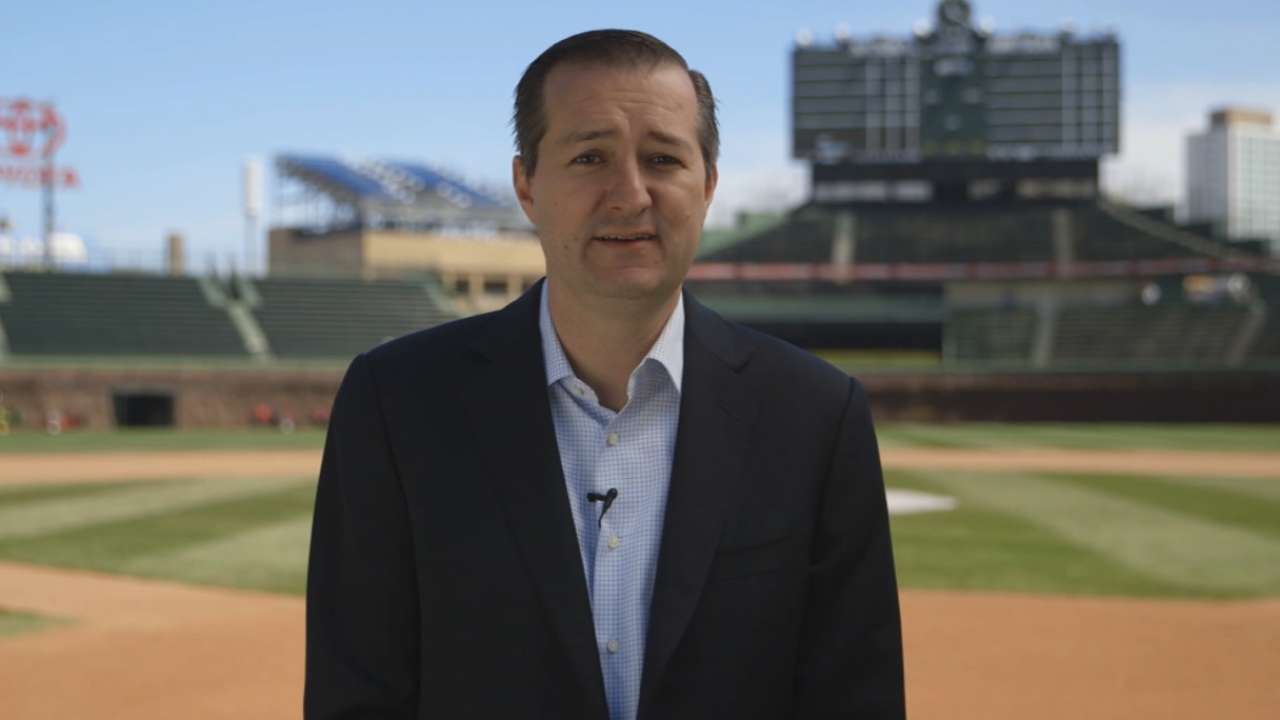 CHICAGO -- Cubs owner Tom Ricketts had an upbeat demeanor as he perused Wrigley Field on Friday.
The Cubs got the approval from the Chicago Landmarks Commission on Thursday for their expanded renovation plans for 100-year-old Wrigley Field.
"It's a day we've been looking forward to for a while now," Ricketts said. "It's great to get to the hearing and get it behind us. We're excited about moving forward.
"Obviously, it's very important for us to get those approvals to move forward. We're excited to begin the renovation process, as opposed to the political process. … We're just glad that it's behind us. I'm not worried about anything that happened in the past. We're just going to go forward."
The commission ruled 6-0 in support of the revised $575 million plan, which includes as many as seven outfield signs, a video scoreboard in left field and a bullpen shift from the foul lines to under the bleachers, which will be demolished and restructured. The outfield bricks and ivy will not be removed.
Ricketts said he was optimistic throughout the process that Thursday's decision would eventually come to pass, and he thanked those who supported it, including Mayor Rahm Emanuel.
"I was confident that everyone has an incentive to work together to save Wrigley Field," Ricketts said. "Obviously, we've always had a very long-term perspective, so [through] a lot of short-term setbacks or friction in the process, we just kept [it] in perspective and tried to take the high road and keep moving forward. I think we're in a good spot now. We're looking forward to getting things rolling.
"I think [Mayor Emanuel] understands that this is a project that needs to get done -- not only to save an iconic ballpark, but for the jobs and economic development it both saves and creates. I appreciate all the mayor's involvement in the process from start to finish."
Ricketts didn't identify a specific date to break ground, but he noted that the outfield cosmetics will be coordinated throughout the offseason and said the overall project would take an estimated four years to complete.
The five additional signs are limited to 650 square feet each, and they must be spaced at least 20 feet apart. They can be either script or neon, but they can't be billboards or have flashing lights. Cubs president of business operations Crane Kenney said the revenue generated from the additional advertising will help finance much of the renovation.
The Cubs delayed the overhaul last year, because rooftop owners threatened to sue over the hindered visibility that the new scoreboard would bring. It has been reduced to 3,990 square feet, down from the original request of 5,700.
Ricketts was cordial yet succinct when discussing the ongoing conversations with the rooftops owners. The rooftop association recently said it would approve the original plan, which had two signs, but it was opposed to adding seven
"Obviously, the hearing was just yesterday. We'll reach out and talk to everybody," Ricketts said. "We're confident there will be a solution that works."
Cubs players and manager Rick Renteria also chimed in on the approval Friday before opening the weekend series against the Braves.
"I think just, in general, just to have the approval to move forward is a big thing for the Cubs, for us," Renteria said. "I know it's been in the making for a long time. I'm just here for the first year, so I know it's kind of been worked through."
Cubs reliever Wesley Wright said he'll miss the intimate fan interaction through the field-level bullpen, but the shift under the bleachers is the safest option.
"It's unique for our fans, because they talk to us and get to see what a Major League-quality pitcher looks like right in front of them," Wright said. "But from a player's perspective, being off the field and kind of out of that area allows you to do a little more … as far as preparing for a game."
"I think the additions and the improvements will just add to [Wrigley Field] and kind of bring us into the modern era," Renteria said. "But I don't think you could ever take away from the reality that we're still in the throes of a very historic ballpark."
Carrie Muskat is a reporter for MLB.com. She writes a blog, Muskat Ramblings, and you can follow her on Twitter @CarrieMuskat. Joe Popely is a contributor to MLB.com. Daniel Kramer is an associate reporter for MLB.com. This story was not subject to the approval of Major League Baseball or its clubs.