Baez's move to second not a precursor for callup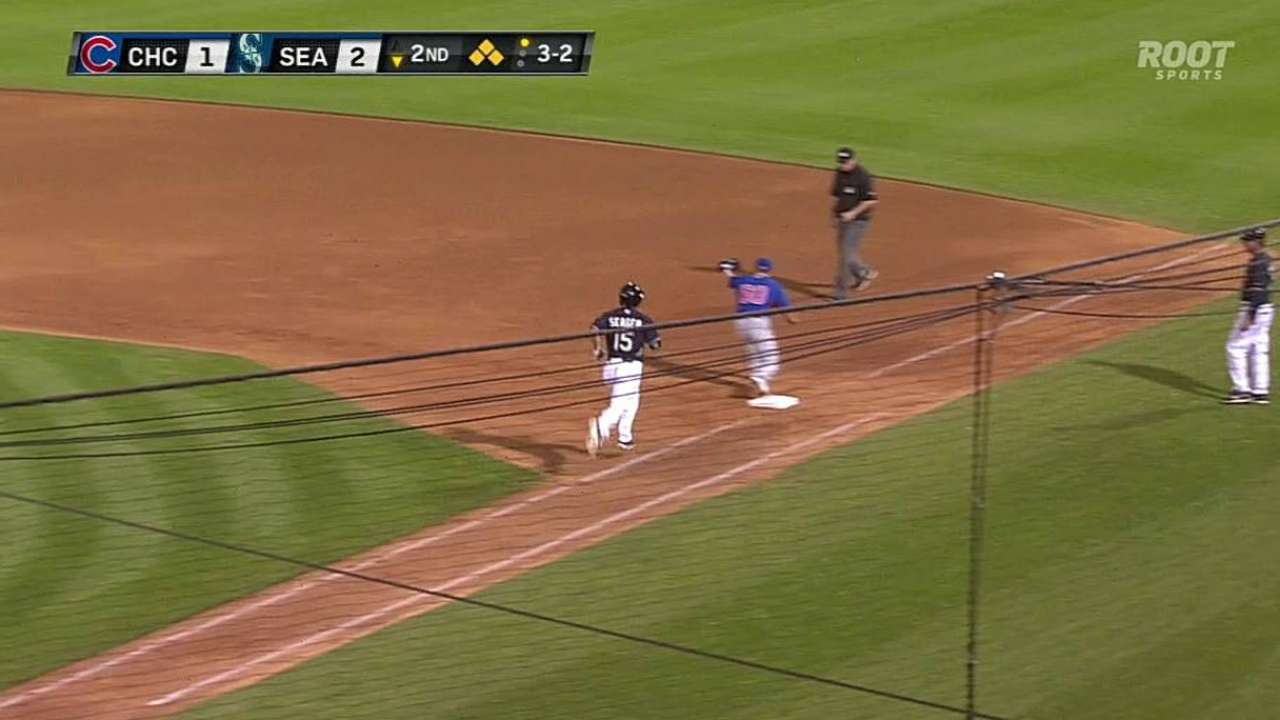 PHOENIX -- Javier Baez made his second straight start at second base Friday for Triple-A Iowa, but Cubs manager Rick Renteria isn't ready to pencil him into the big league lineup just yet. The Cubs already have a logjam in the infield.
Arismendy Alcantara, promoted from Iowa when Darwin Barney went on paternity leave, made his fifth start Friday at second. Alcantara has a hit in every game except for his first, has already registered his first Major League home run and RBIs, and was batting an impressive .391 entering the series opener against the Diamondbacks.
Plus, Emilio Bonifacio is continuing his rehab from a strained oblique, and Renteria said the veteran is "very close" to returning.
When the Cubs make a roster move Tuesday to add starting pitcher Kyle Hendricks, someone has to go.
"Fortunately for me, we have three days and the off-day [Monday] before we have to make a decision as to how we'll proceed with the roster," Renteria said Friday. "I think we still have to have conversations. [Alcantara] has been playing very well. It's still day to day."
Baez, ranked No. 1 on MLB.com's list of top 20 Cubs prospects, started at shortstop until Thursday. The Cubs have talked since Spring Training about having the infielder move around, especially since they already have shortstop Starlin Castro.
"The move is to allow [Baez] to get over there [at second]," Renteria said. "It's good to see that he's moving around but from my perspective, it's not an anticipatory position for me to think I'm going to see him [on the big league team]."
The hardest part of the transition, Renteria said, will be handling the pivot at second base, but he added that because Baez is so athletic, he should be able to make the switch.
"He's a kid with a lot of pop," Renteria said of Baez, who hit a two-run homer for the World Team in the SiriusXM Futures Game on Sunday. "He's a kid who defensively has a little bit of excitement playing in the field. He's very aware of everything going on defensively. He has a good sense running the bases. There are a lot of qualities that we saw in a short period of time [in Spring Training] that lend themselves to seeing him becoming a very good Major League baseball player."
When will that be? Renteria couldn't say, and he didn't want to imply that Baez's move meant he was close to a promotion, or that it signaled the Cubs' shift to more of a youth movement.
"That'd be a far reach for me to make that statement now," Renteria said.
Carrie Muskat is a reporter for MLB.com. She writes a blog, Muskat Ramblings, and you can follow her on Twitter @CarrieMuskat. This story was not subject to the approval of Major League Baseball or its clubs.