Wood spiraling due to 'frustrating' lack of command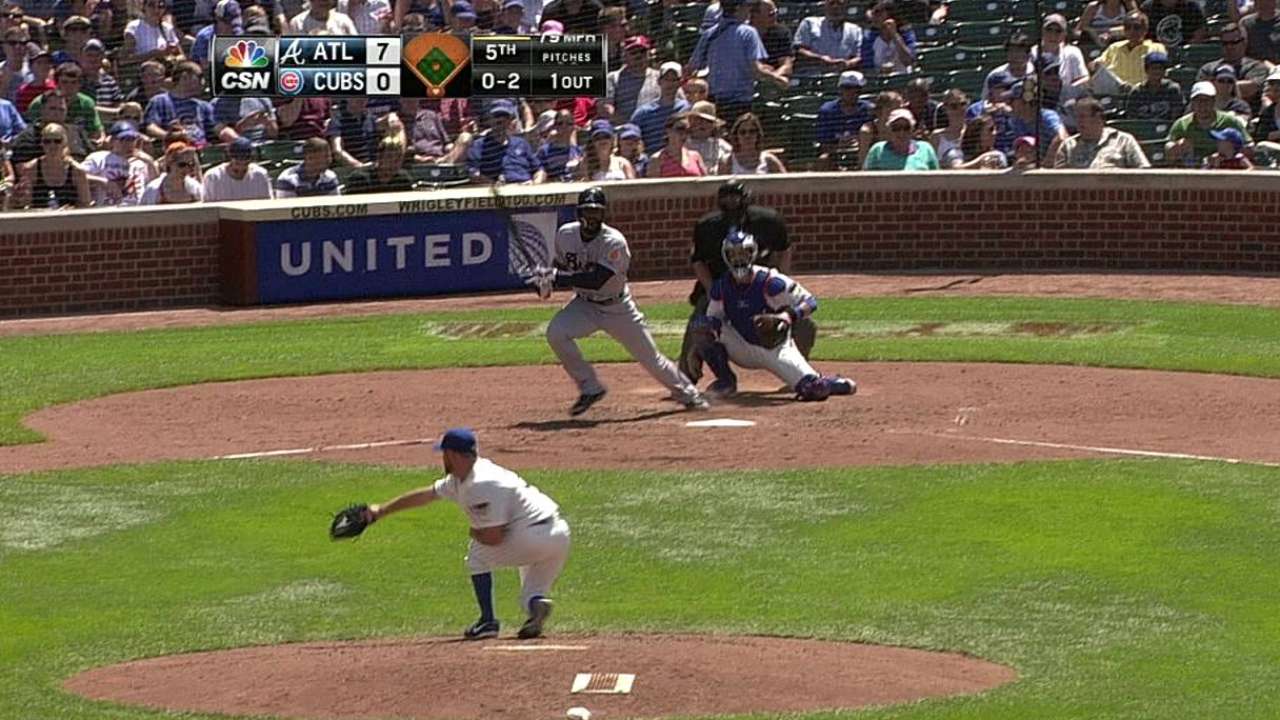 PHOENIX -- Travis Wood has not looked like the same pitcher he was last season, and the Cubs left-hander knows it. So does pitching coach Chris Bosio.
"I think it's a command thing for Travis," Bosio said Sunday. "He's getting in hitters' counts and doesn't have the command he had last year. We talk about it a lot as a staff. Try to find out what's working and what's not working. Unfortunately for Travis right now, he shows flashes and the next thing you know, he'll walk a guy.
"He's had more 3-0 counts this year at this point than he had all of last year," Bosio said. "Last year, he was unbelievable and very consistent, National League All-Star, but unfortunately for baseball players, these are cycles we go in. He's trying to find it, and he's searching."
In the first half last season, Wood walked 38 over 122 2/3 innings, and teams hit .202 against him. In the first half this year, he walked 48 over 110 2/3 innings, and teams batted .270 against him.
"It can become very frustrating, emotionally frustrating," Bosio said of Wood, who walked four in Saturday's loss to the Diamondbacks. "I think that's the position he's at right now. He's trying to do everything. Sometimes you have to simplify it and just say, 'You know what, I'm going to get back to bread and butter and try to pound the zone. If they're going to swing at it, let them swing it.'
"To see him go out and walk these guys, it's crushing, and not only for us, but for him as well," Bosio said. "You can see it in his body language."
Wood doesn't overpower hitters, and needs to have command to be successful. And yes, Bosio has had this discussion with the lefty, who may be trying to do too much following the July 4 trade of Jeff Samardzija and Jason Hammel.
"Losing our two guys -- and it's going to be a conversation piece for God knows how long -- but Jeff and Jason brought a lot for the rest of the guys," Bosio said. "They set things up nicely for the rest of our rotation as far as looks, different angles. They were leaders in here, and I think at times, Woody has tried to do too much."
In Spring Training, Wood and Samardzija were inseperable.
"He lost a good friend, a good teammate, and a good competitor," Bosio said of Wood. "Nobody in this league is going to feel sorry for us and the last thing you do is feel sorry for yourself. He has to get back to good ol' country hardball from the sticks in Arkansas. That's what he's done, that's how he got here. I believe he'll get through it. He's got to believe in himself and get back to challenging guys."
Carrie Muskat is a reporter for MLB.com. She writes a blog, Muskat Ramblings, and you can follow her on Twitter @CarrieMuskat. This story was not subject to the approval of Major League Baseball or its clubs.