Black, Renteria reflect on Maddux's career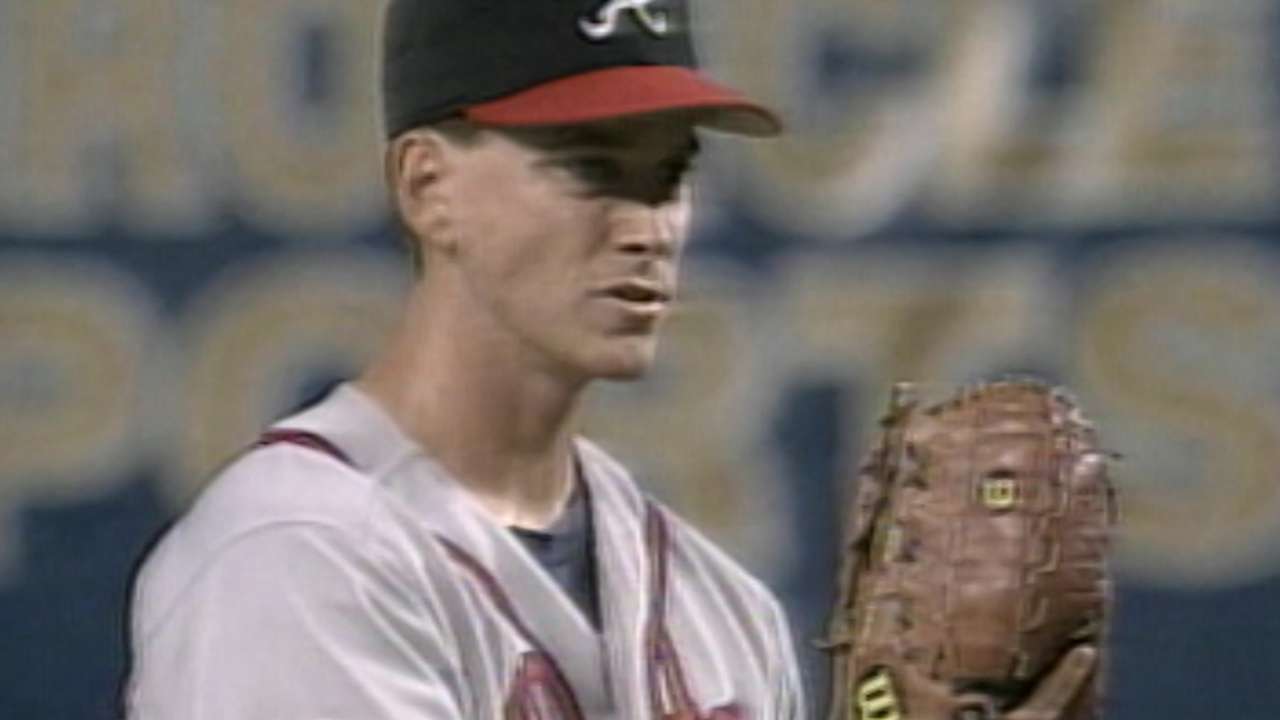 CHICAGO -- Padres manager Bud Black knows why Greg Maddux will be inducted into the Hall of Fame on Sunday.
"Early in his career, [Maddux] had velocity, he had movement, he had rotation," Black said Thursday. "So when you have those three things, it adds up to a Hall of Fame potential. When you combine that with the competitiveness, the head on the shoulders, the in-game awareness, the aptitude -- it adds up to a guy that separates himself for Hall of Fame status.
"As his career moved forward, he lost a little bit of the velocity," Black said, "but he still had the movement and location. You combine that with the experience and the pitching wisdom that he had moving forward -- again, it just adds to the Hall of Fame status."
Black said Maddux had "tremendous baseball instincts, the ability to locate the ball with tremendous movement through all of his career. That's what separated him."
Maddux will join baseball's elite in Cooperstown. The Hall of Fame induction ceremony will air on Sunday at 12:30 p.m. CT live on MLB Network and simulcast on MLB.com and the At-Bat app.
Cubs manager Rick Renteria was with the Padres with Black and Maddux in 2007-08, and also marveled at the right-hander's skills.
"The ability for him to stay healthy and do what he did is a gift," Renteria said of Maddux, who won 355 games in a 23-year career. "You're either born with the genes to do things like that or you're not. There are some things that contribute to the deterioration of the body at some point, but he was able to find something that kept him on the field a long time. He's a very gifted athlete, very good baseball player, very prepared and knew what he was doing."
Renteria said Maddux would correctly predict what would happen in the game from the dugout.
"He was very intuitive," Renteria said. "He'd be sitting in the dugout and say, 'This guy is going to hit this ball right between [the pitcher's] legs now,' and sure enough, we'd make the pitch, and boom, the guy would hit the ball between his legs. He had a knack of recognizing and knowing where the ball was going to be projected. When you saw him fielding when he pitched, he was many times already moving to the area where the ball was going to be batted to him."
Which could partly explain why Maddux won 18 Gold Gloves.
Carrie Muskat is a reporter for MLB.com. She writes a blog, Muskat Ramblings, and you can follow her on Twitter @CarrieMuskat. This story was not subject to the approval of Major League Baseball or its clubs.