Epstein: Baez earned callup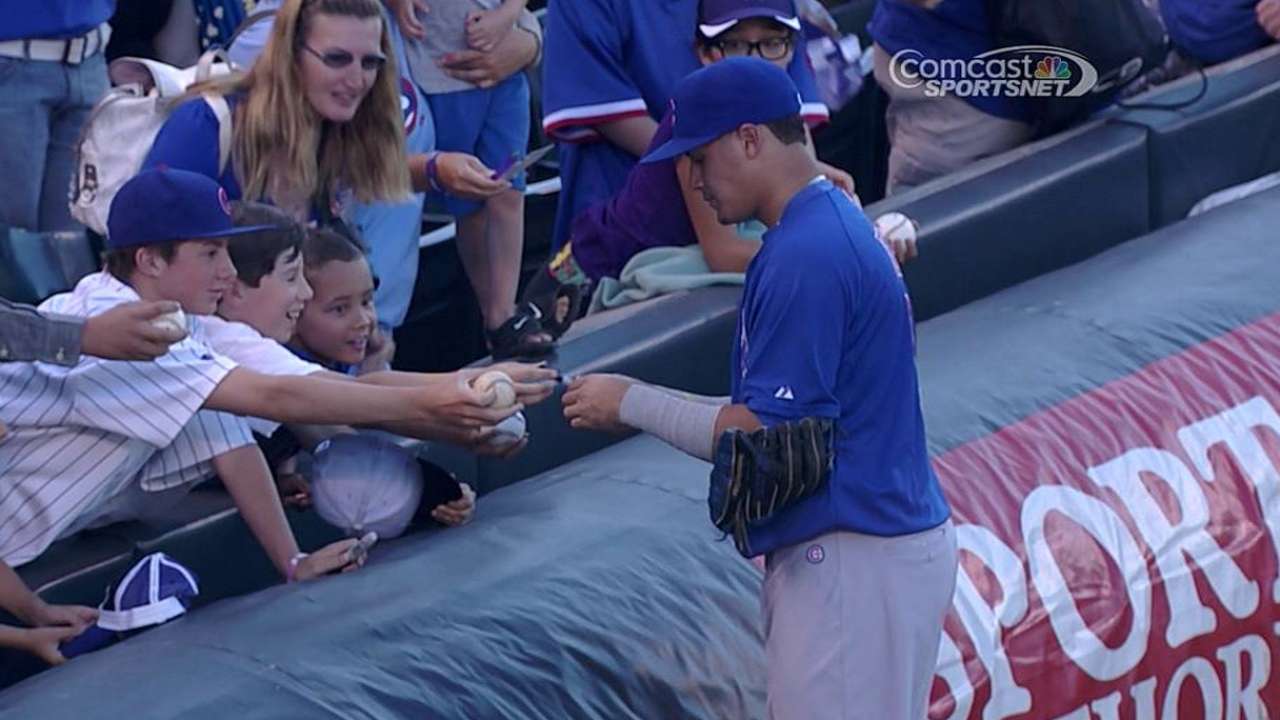 DENVER -- Javier Baez showed what he can do in the big leagues in his first game.
The Cubs promoted Baez on Tuesday, and he delivered in his first Major League start, hitting a game-winning home run leading off the 12th inning in a 6-5 win over the Rockies.
Cubs president of baseball operations Theo Epstein said they decided it was time to promote Baez because he'd fulfilled several items on the check list. However, Epstein most likely didn't expect this kind of debut.
"Javy has made a lot of strides in areas that we've emphasized for his development," Epstein said. "He's doing a much better job of making the pitcher work, swinging at strikes, looking for a pitch he can drive."
Baez's strikeout totals have decreased each month at Triple-A Iowa, and he's developed a better approach at the plate. Baez has about 450 plate appearances at Iowa, which was enough of a sample size.
The infielder also has a history of struggling when he first gets to a level, and then making the necessary adjustments. He'll be in the lineup nearly every day to get started on the next phase of his development.
"We all know it can be very difficult to make in-season adjustments as a big leaguer," Epstein said, citing struggles by Starlin Castro and Anthony Rizzo last year. "This timing allows Javy to go play for eight weeks, and then take a deep breath this winter. He can take a fresh look at his performance in the big leagues and take it all in and start to make any adjustments if necessary."
Baez got off to a slow start at Iowa, batting .172 in April. After work with Iowa hitting coach Brian Harper, and talking to other players, plus player/coach Manny Ramirez, Baez hit .275 in June, and then got hot in July, batting .300. For the season, he was hitting .260 at Iowa with 24 doubles, two triples, 23 home runs and 80 RBIs in 104 games.
Baez was sleeping when he got the news from Iowa manager Marty Pevey.
"I said, 'Are you serious?' and then I realized I was really going to the big leagues and got really excited, and called my mom and told my brother and everybody started jumping around and started crying," Baez said.
He took early batting practice at Coors Field, and felt right at home.
"I like how the ball flies here and everything you hit in the air is gone," he said.
Starlin Castro is set at shortstop, but Baez has made the transition to second, playing there more since the All-Star break. The plan is to have him at second and rookie Arismendy Alcantara in center field for the majority of games.
"The first two games, it was weird," Baez said. "I was seeing everything backwards. By the third game, I was kind of getting it. Now it's like normal."
Rizzo batted .141 in 49 games with the Padres when he was first called up in 2011. Does he need to keep an eye on the new second baseman?
"There's no need to," Rizzo said. "He'll be in the right place. He's a good kid. Now that he's here, there's no 'up' and he knows that. This is it, this is The Show. He's in it and deserves to be in it, and hopefully the transition is smooth for him.
"It doesn't matter what he does. Obviously we want him to start off well. He's going to go through his time, everyone does. He'll be fine. He's got a great attitude and mentality. He won't get rattled much in my opinion."
Epstein is well aware Baez will be the center of attention. He's the first of the Cubs' so-called core four -- along with Kris Bryant, Jorge Soler and Albert Almora -- to make it to The Show. Epstein is hoping Cubs fans understand there are going to be stretches when Baez is 0-for-4 or 0-for-20.
"If Javy follows the normal track record for very talented 21-year-old big leaguers, he's going to struggle in certain elements of his game, and that should be expected and that should be part of the learning process and part of his development in the big leagues," Epstein said.
"That said, I don't think Javy is someone who needs to be handled with kid gloves," Epstein said. "Because he plays with emotion and edge, I think there's a tendency for people who don't know him to think he's fragile or volatile. I think Javy understands the game really well.
"He plays to win," Epstein said. "He's a real competitor, he shows up every day, he plays every day, he prepares himself well. Javy, in some ways, is baseball mature beyond his years and is not someone we have to be delicate with. We understand he's 21 and it's likely people put unrealistic expectations on him. We're proud of Javy, he's earned this opportunity and it'll be fun to watch him."
Is it different in the big leagues?
"Not really," Baez said. "For me, it's the same game, just more fans."
Carrie Muskat is a reporter for MLB.com. She writes a blog, Muskat Ramblings, and you can follow her on Twitter @CarrieMuskat. This story was not subject to the approval of Major League Baseball or its clubs.