Fujikawa back in bullpen after lengthy recovery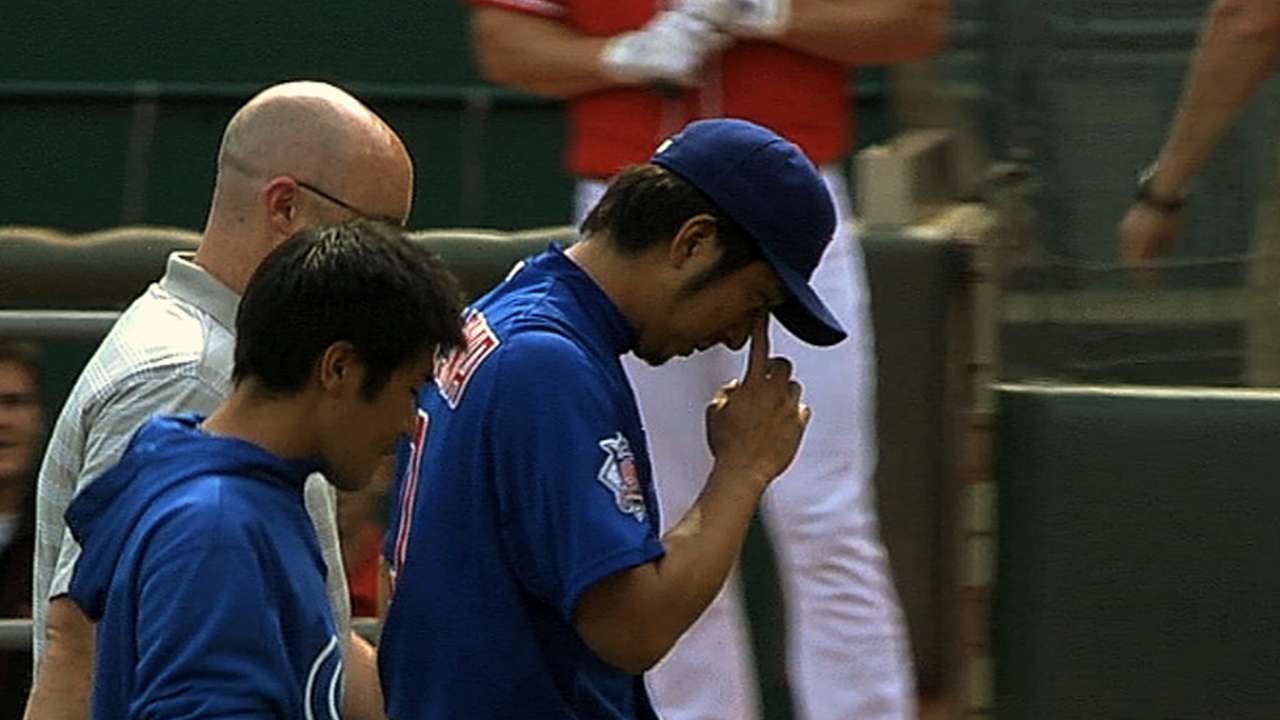 DENVER -- Kyuji Fujikawa was back in the Cubs bullpen for the first time since May 2013, and manager Rick Renteria didn't waste any time getting the right-hander back in a game.
Fujikawa, who underwent Tommy John surgery on his elbow in June 2013, was activated from the 60-day disabled list Wednesday. He originally signed to be the Cubs' closer but will be eased into game situations.
"The biggest thing is to get him back out there on a big league hill and see how he performs," Renteria said before the game.
The Rockies had rattled off seven straight hits against starter Jake Arrieta in the sixth when Renteria called on Fujikawa. There were no outs, and Fujikawa hit the first batter he faced, but got Jason Rutledge to hit into a double play and the next batter then flew out.
"He minimized damage," Renteria said. "He threw some good fastballs, his split looked good and he looked very calm and composed."
Fujikawa, 34, was limited to 12 games last season with the Cubs before he was sidelined with elbow problems. In six rehab games at Triple-A Iowa, he gave up one run on five hits and one walk over six innings while striking out four. He's totaled 11 2/3 innings in Minor League rehab games with the Cubs' Rookie League team, Class A Kane County and Iowa and has given up one earned run on seven hits and three walks.
The velocity on his pitches in the Minors has topped at 87 mph, but Fujikawa said that reading may have been his two-seam fastball.
"I don't really know until I get out there on the mound if it's back or not," he said through interpreter Ryo Shinkawa before Wednesday's game.
This is the second year of Fujikawa's two-year deal with the team, and he says his focus is the same, to get batters out. But what's next? He'll have less than two months for the Cubs to decide if they are going to pick up his option for 2015.
"I don't think that's something I should get into right now," Fujikawa said. "My job right now is to do the work that's ahead."
He said he has not thought about returning to Japan to pitch.
"I'm not really thinking about that, and I don't have time to think about that," he said.
Carrie Muskat is a reporter for MLB.com. She writes a blog, Muskat Ramblings, and you can follow her on Twitter @CarrieMuskat. This story was not subject to the approval of Major League Baseball or its clubs.