Poised Baez keeps Wrigley debut in perspective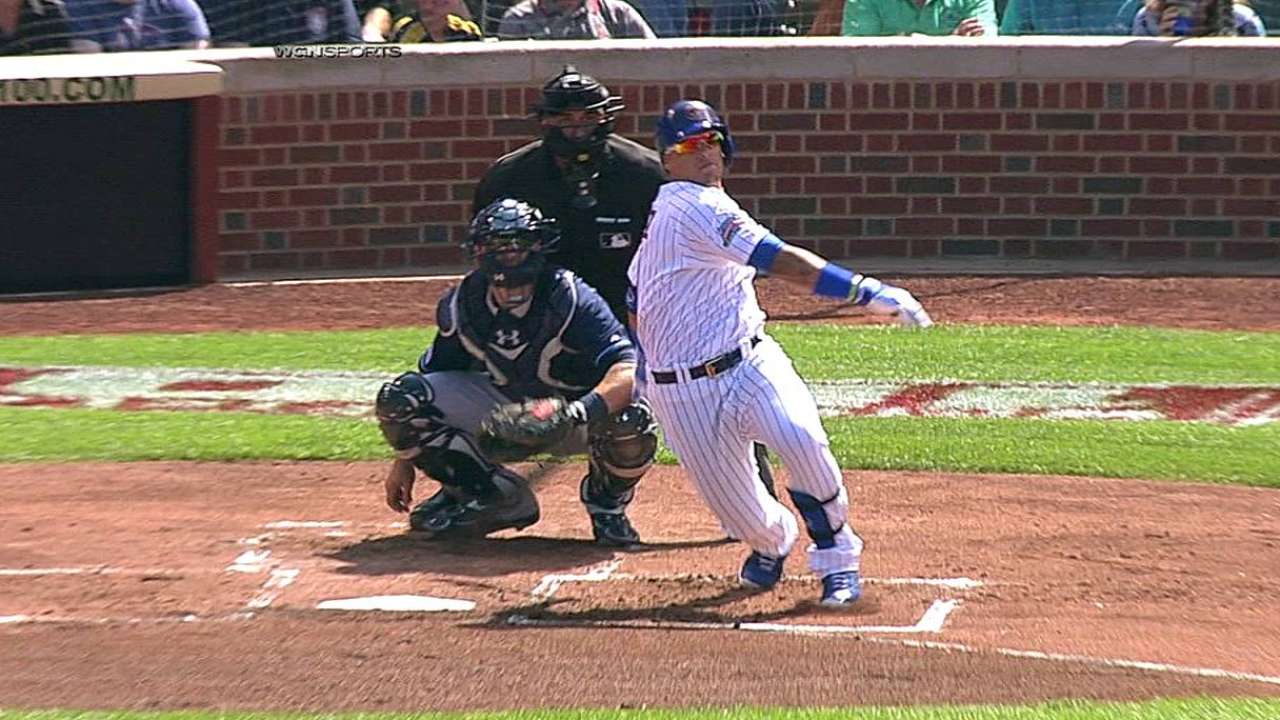 CHICAGO -- Javier Baez took his first game as a Cubs player at Wrigley Field in stride, from his first batting practice at the Friendly Confines through the last of his four strikeouts.
After singling and scoring in the first inning of the Cubs' 4-3 loss Friday in 10 innings to the Tampa Bay Rays, Baez whiffed four straight times to conclude his day.
"It was nothing different," Baez said. "It was just [the] same thing. I wasn't nervous or anything. I was just not being patient at the plate and swinging at bad pitches."
Trailing 3-2 in the eighth, he struck out with no outs and a runner on second. Trailing 4-3 with one out in the 10th, Baez struck out on a swing that brought him to one knee and nearly knocked him over. Baez wasn't even all that happy with his single.
"That hit, [the pitch] wasn't even over the plate," he said. "I got jammed, broken bat, and it was just the ball went through. But they didn't throw many pitches over the plate."
Prior to the game, Baez stuck to his regular routine of hitting in the batting cages before taking his first live batting practice on the field. He answered a multitude of questions from a large group of reporters. The 21-year-old even got a chuckle out of signs held by fans celebrating his arrival on the scene in the Windy City.
"I just laugh," Baez said when asked about a sign pronouncing the start of big things to come for the Cubs. "I just came up, and we've still got guys coming up."
How does such a heralded prospect keep his focus amid a city full of Cubs fans starved for any signs of hope?
"I don't know," Baez said before the game. "I just make [dealing with the hype] look easy, I guess."
As he strode to the plate for his first at-bat, Cubs fans gave him a standing ovation. Not even that seemed to affect him. Asked if he was expecting that kind of reaction, Baez hunched his shoulders.
"Yeah, for sure, why not?" he said.
After it was pointed out how much Cubs fans seem to like him, Baez replied, "Yeah, they do ... and I like them, too."
As for on-field adjustments, he's getting advice from teammates like Anthony Rizzo and Starlin Castro, who've already lived up to the high expectations. Their main advice to Baez: Keep doing what you've done all along. It's the same thing that helped Baez grind through a deep slump to start the season and eventually earn his promotion from Triple-A to the Major Leagues on Tuesday in Colorado.
"I struggled a long time and it took forever to get better, but I didn't stop doing my routines and doing my early work," Baez said. "I was doing everything like I usually do."
Baez estimated that he'd received about 500 calls and texts since the announcement of his callup, but he hasn't worried about responding just yet. He doesn't have time right now, because his routine is pretty jam-packed already.
"He's a pretty calm individual," Cubs manager Rick Renteria said. "I don't think it's really affecting him too much. I think he's happy to be here, obviously, but he also has a sense that he belongs. So I think he'll continue to make adjustments and improve and hopefully continue to have success."
Baez did have time to respond to one text. After hitting two home runs in the series finale at Coors Field on Thursday, he got a text from Manny Ramirez -- who'd helped him with the finer points of hitting at Iowa. Ramirez is a player/coach there, and Baez said he learned a lot about his approach at the plate from the former All-Star.
"He texted me [and] he was like, 'You hit two home runs, but I hit one and I went dead center on you,'" Baez said.
Brian Hedger is a contributor to MLB.com. This story was not subject to the approval of Major League Baseball or its clubs.