Study habits paying off for Ivy Leaguer Hendricks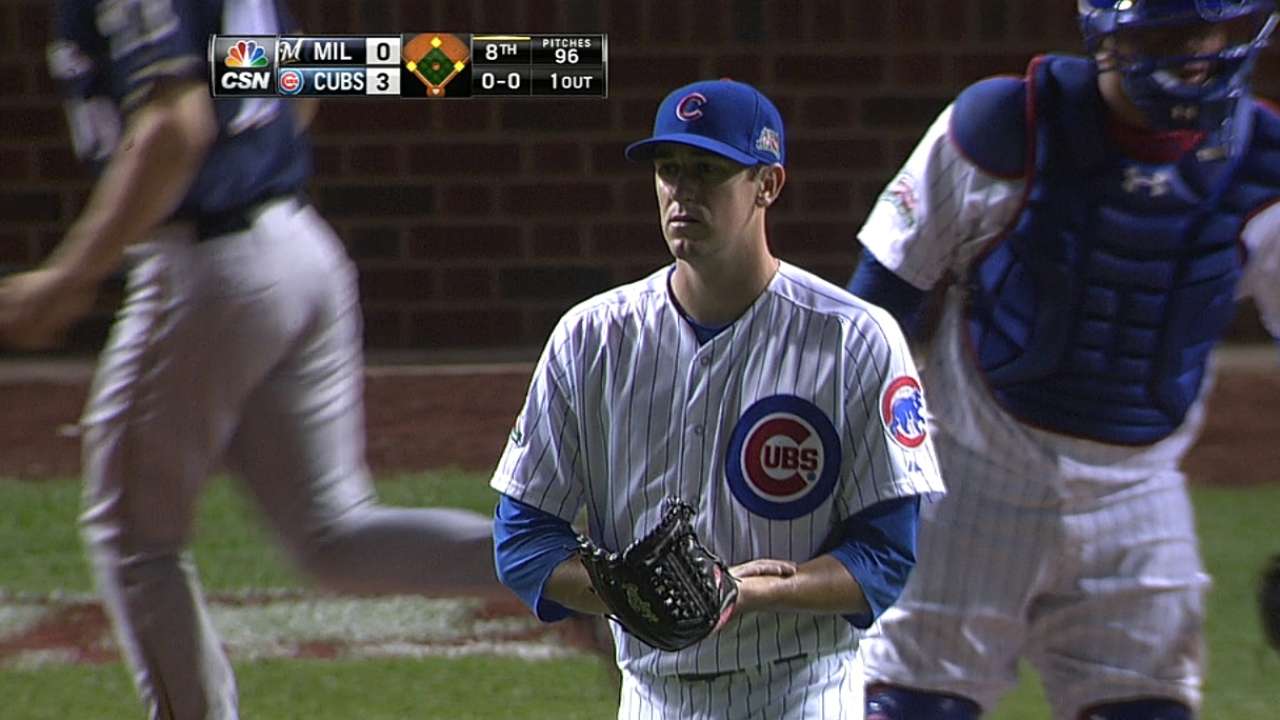 CHICAGO -- Facing big league hitters is a lot easier than the abstract algebra class Kyle Hendricks took in his final semester at Dartmouth.
"It sounds kind of simple, with 'algebra' in the name of it, but it was the hardest class by far that I took at Dartmouth," Hendricks said.
The Cubs pitcher, who did complete his economics degree at the Ivy League school, has applied his study techniques to baseball. He begins to prep before his starts with the scouting report supplied by coach Mike Borzello and one of the Cubs' advance scouts. He'll watch some video, and two days before his game, Hendricks will watch film of the opponent's recent games.
"Guys are always changing their approaches, changing their swings, so I like to watch recent stuff," Hendricks said.
The day before his start, Hendricks will watch every hitters' at-bat to see what he's trying to do.
"I just try to sear the game plan into my mind by watching a ton of video," Hendricks said. "That way, when I'm on the mound, I don't have to think about, 'What was this guy supposed to do again?' It's just kind of there because of watching so much video.
"It's studying for sure. You're looking at the hitters. The scouting report is just a bunch of words. You have to read it and have to be able to retain it. It's fun studying, it's not like school. It's fun sitting there watching hitters. You're watching baseball."
Doing his homework has paid off. Hendricks notched his fifth quality start on Tuesday in a 3-0 win over the Brewers.
Give credit, too, to Rangers Minor League pitching coach Brad Holman, who was Hendricks' mentor at the high Class A level. The right-hander said he sat next to Holman every day in the dugout to pick his brain and talk pitching.
"He was unbelievable and he did a lot for me to get to this point," Hendricks said.
There are others. Iowa pitching coach Bruce Walton was a huge help this year, Hendricks said, as is Cubs pitching coach Chris Bosio.
But Hendricks deserves a lot of the credit himself. He was named the Cubs' 2013 Minor League Pitcher of the Year, then returned to Dartmouth to finish his classes.
"The best part was the professors -- they're willing to help you any time, any day," Hendricks said. "It's the same here. [The coaches] are great, they put together scouting reports, talk about the hitters. It's very similar."
Why Dartmouth? Because baseball coach Bob Whalen promised Hendricks he could pitch his freshman year and would be one of the Big Green's weekend starters.
"That's all I wanted to do, was play," Hendricks said.
He left his southern California home and headed east.
"I wouldn't trade it for the world -- the friends I met there and the atmosphere," Hendricks said. "The last thing you think about is the weather. You're there with all your buddies."
So, if he wasn't pitching, what would Hendricks be doing with his degree?
"I'd be looking for a job somewhere," he said, laughing. "I honestly have no idea. I took [economics] because it was kind of interesting to me. I never thought of it as providing a job for me later. My heart was in baseball. Even though I went to Dartmouth for an education, I knew I wanted to play baseball and was going to play baseball. All I needed was the opportunity. There was never a second option for a job."
Carrie Muskat is a reporter for MLB.com. She writes a blog, Muskat Ramblings, and you can follow her on Twitter @CarrieMuskat. This story was not subject to the approval of Major League Baseball or its clubs.