Castillo appreciates umps' aid with Rule 7.13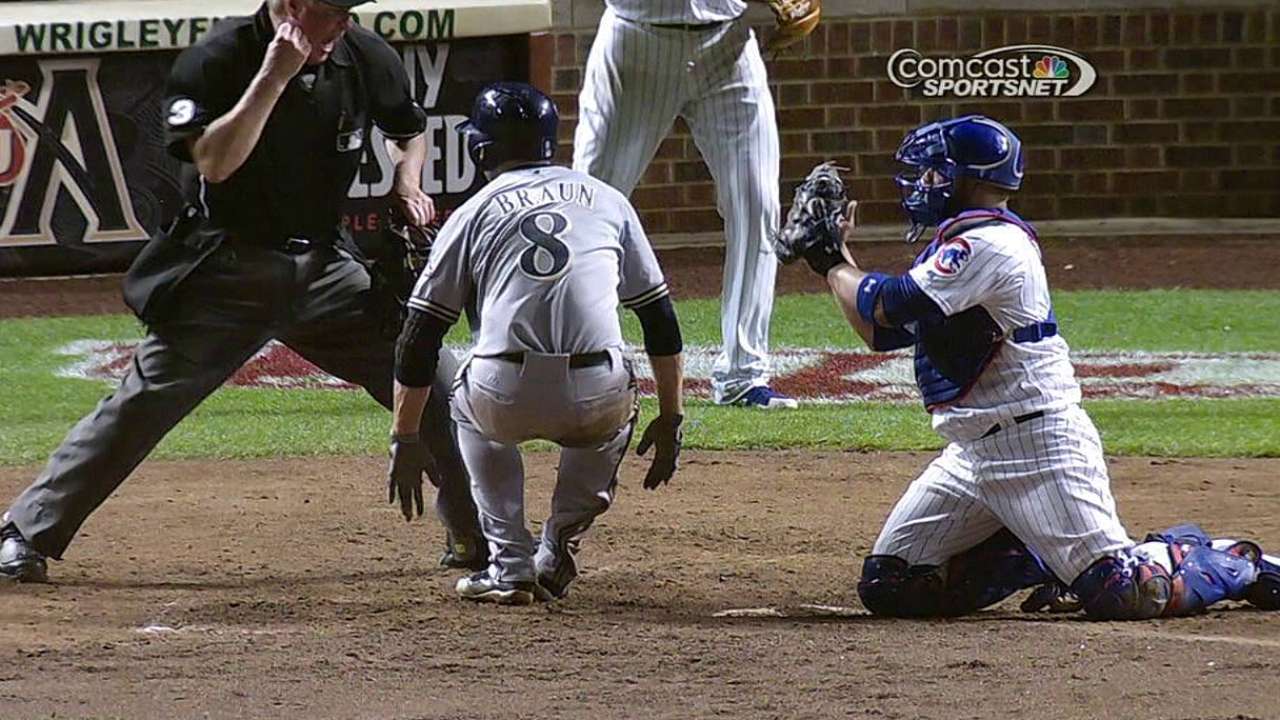 CHICAGO -- Welington Castillo said umpires have helped him with subtle reminders regarding new Rule 7.13 as to where he can stand at the plate, but the Cubs catcher is still a little vague on the restrictions.
The rule states that "a runner attempting to score may not deviate from his direct pathway to the plate in order to initiate contact with the catcher (or other player covering home plate)." It came into play Wednesday during the seventh inning of the White Sox's game against the Giants, which resulted in manager Robin Ventura getting ejected.
"When the play happens, you worry about getting the ball and tagging the guy," Castillo said Thursday. "You never see where you're going to stand on the plate. You're just in front of the plate. Some umpires tell me before [the pitch], 'Hey, give me the line.' Before stuff happens, you have to anticipate what's going to happen and they say 'Hey, just give me the line.'"
Castillo said he often just reacts, but he does appreciate the umpire's reminders.
"As a catcher, you never think about it, you just react to [the play]," he said.
Cubs manager Rick Renteria said the rule has accomplished reducing the number of collisions at home plate. He also knows how there can be some confusion. Of course, he can turn to his brother for help.
"My brother is an attorney, and says there's the spirit of the law and the letter of the law," Renteria said. "The letter of the law says if he's in front of the plate without the ball, that the runner shall be granted home plate. The spirit of the law was intended to eliminate injury to the catcher by baserunners going outside the lane and attacking the catcher. I'm sure there will be a happy medium somewhere in the future."
Did Renteria win many arguments with his brother?
"Not very many," he said.
Carrie Muskat is a reporter for MLB.com. She writes a blog, Muskat Ramblings, and you can follow her on Twitter @CarrieMuskat. This story was not subject to the approval of Major League Baseball or its clubs.