Amid rumors, Starlin says he wants to stay with Cubs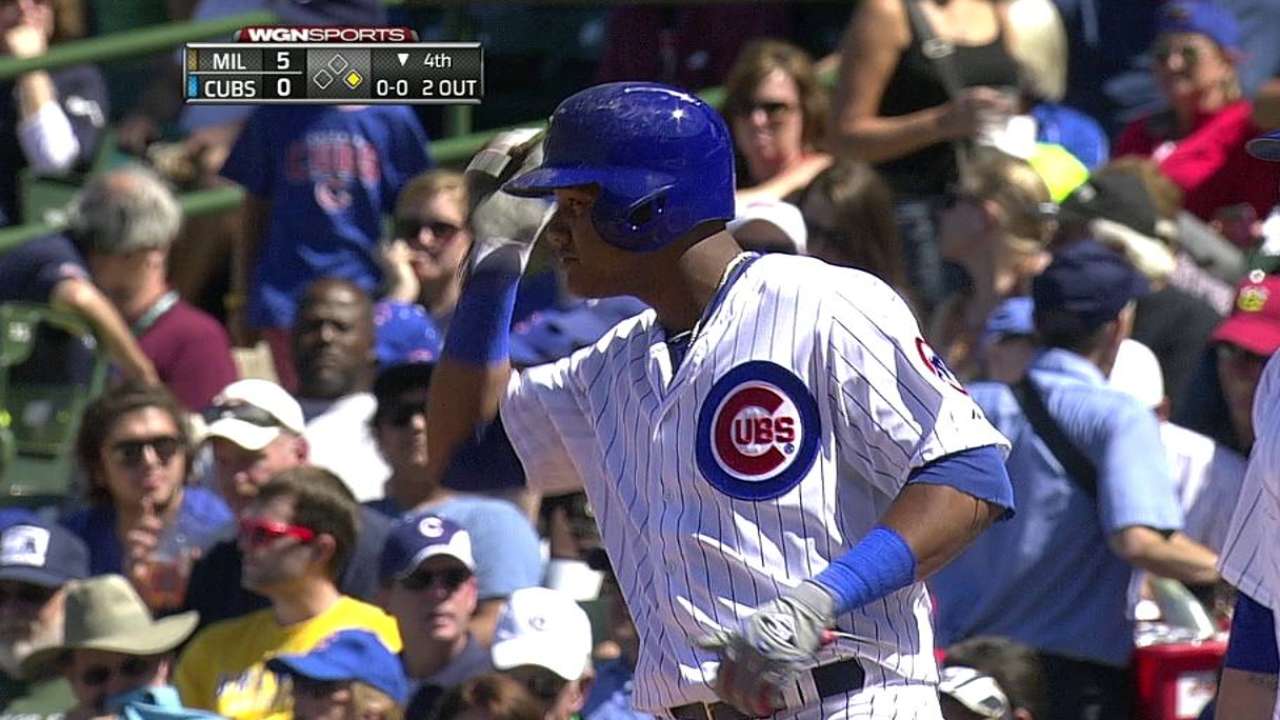 NEW YORK -- Apparently, the word on the street in New York is that some Mets fans would like to do something about the overload of shortstops in the Cubs' system. Specifically, they want Cubs shortstop Starlin Castro.
"I don't really think about this," Castro said Friday about the rumored interest. "We have a lot of shortstops in the Minor Leagues, but it doesn't matter. We're athletes. We can play wherever in the infield."
The Cubs do have depth with Castro plus Javier Baez, now playing second, and prospect Addison Russell, acquired July 4 from the Athletics for Jeff Samardzija and Jason Hammel.
Cubs manager Rick Renteria doesn't see it as a problem.
"The beauty of having shortstops is that they actually can transition to other positions," Renteria said. "If you think about it, when you draft players out of high school and college, the guys who seem to be the strength in Drafts are guys who played up the middle."
When the Cubs did acquire Russell, Castro's agent talked to Cubs president of baseball operations Theo Epstein. Castro is signed through 2019, and when he agreed to the deal, he did so with every intention of staying with the Cubs his entire career.
"We talked after the trade," Castro said of conversations with Epstein. "They told me, 'Don't even think about it.' They told me, 'You're the shortstop now,' and that's what I did. I'm here. I'm going to play here every day and I'm going to try to play hard every day.
"I don't want to leave here," Castro said. "I want to stay here all of my career. Whatever happens, happens."
New York reporters asked Castro prior to Friday's game if he'd consider a move.
"I know myself I can be a good player, I know a lot of teams could have me and want me, but I'm here and I don't want to leave here," Castro said of the Cubs. "I feel comfortable here and I want to be part of this team for when we compete, when we win in the playoffs. That kind of thing is not in my mind. Whatever happens, happens. I don't have control over this."
Castro is also eager to see the Cubs with himself, Baez and Russell in the same lineup.
"We have a lot of talent," Castro said. "As soon as all of those guys are here, we'll be better."
Carrie Muskat is a reporter for MLB.com. She writes a blog, Muskat Ramblings, and you can follow her on Twitter @CarrieMuskat. This story was not subject to the approval of Major League Baseball or its clubs.