Szczur makes his Major League debut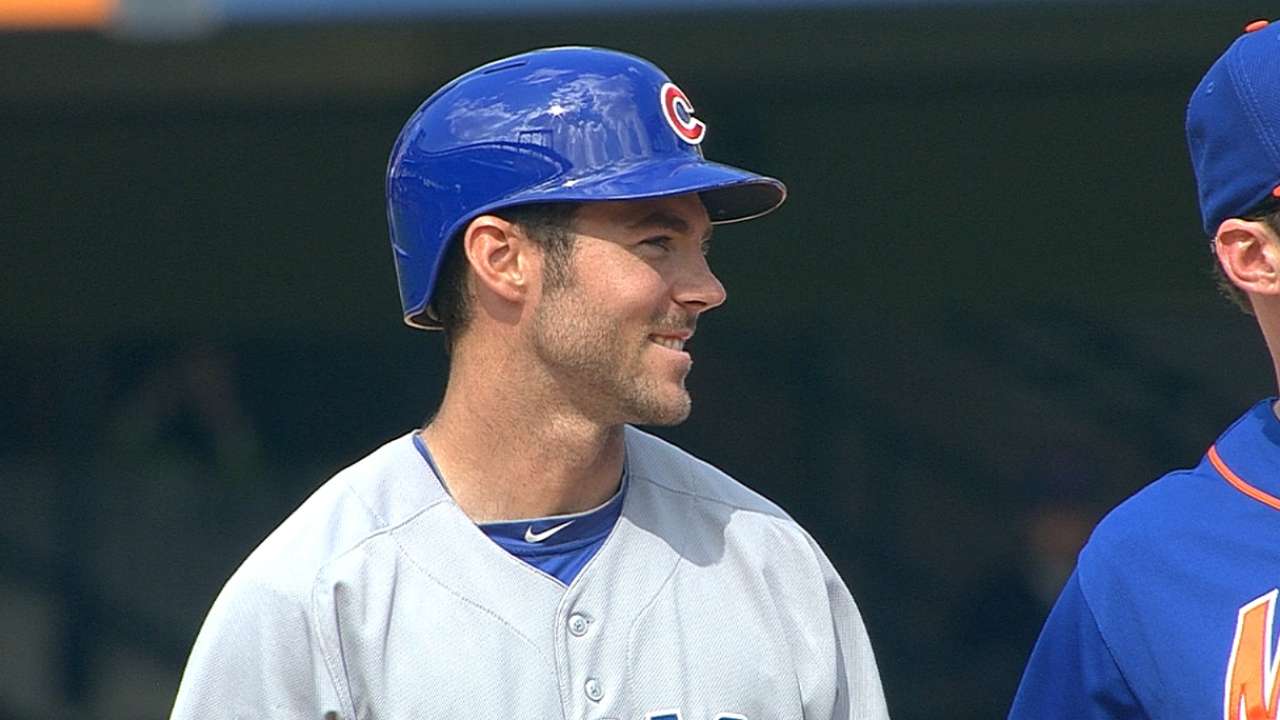 NEW YORK -- Matt Szczur's father was in Des Moines this weekend to help his son pack some of his belongings. Szczur has spent the season at Triple-A Iowa, and with the year winding down, the plan was for his father to make a stop at the Iowa State Fair on Saturday, then load up the car and drive to New Jersey. But plans changed.
"I called him and said, 'You might want to come back -- we're packing up for a different reason now,'" Szczur said.
Szczur was called up from the Minors on Sunday and joined the Cubs at Citi Field, where he played once before in a workout for Major League scouts. He entered the game in the eighth as a pinch-runner to become the seventh player to make his Major League debut with the Cubs this season. He wasn't nervous.
"I feel if it was my first time up and I hadn't been in big league camp, I would've been a lot more nervous," Szczur said. "I remember the first time I was in big league camp, my legs were shaking. I felt very comfortable today. I wasn't nervous. It was good to hear the crowd go crazy -- it brought me back to my football days."
He had a cheering section from Cape May, N.J., which is about 2 1/2 hours away from New York City. A lot of his former Villanova classmates and teammates were at Citi Field.
"It was a great day," said Szczur, who was given the lineup card as a souvenir.
He stayed in the game in right field, and hit into a fielder's choice in his first at-bat in the ninth.
"To be honest, I didn't even think I'd be playing baseball," said Szczur, who was a star wide receiver at Villanova. "I thought I was going to go to the NFL and play football. It happened my opportunity was better at the time to play baseball.
"I just wanted to work hard and get to the hardest level. It's been a great journey. There have been struggles. But there are struggles everywhere and you learn from your struggles."
Szczur knows first hand about struggles. He donated blood cells to a leukemia patient who had a 1-in-80,000 chance of finding a match. He missed 10 games in 2010 because of side effects from the medication he had to take.
A fifth-round pick in the 2010 First-Year Player Draft, Szczur has impressed the Cubs organization with his work habits. He doesn't just stand in the outfield during batting practice, he "power shags" and chases after balls hit as if it's a game situation.
"It's helped me a lot," Szczur said. "What helped get me here is being a defensive help in the outfield."
Iowa manager Marty Pevey broke the news to Szczur in a lighthearted way. Szczur was called into Pevey's office before Saturday's game.
"He asked if I was hitting off the curveball machine today," Szczur said. "I said, 'Yeah, I planned on it.' He said, 'Well, you're not going to hit it with us, you're going to the big leagues.' I was excited, everybody else was excited. They see the hard work I put in and they were happy for me."
Cubs manager Rick Renteria wants to take advantage of Szczur's speed, since the fleet-footed outfielder had 30 stolen bases at Iowa; the Cubs have 49 as a team.
"He did a nice job for us in the spring. He's a nice defensive player, he had some really good at-bats, runs the bases well," Renteria said.
Szczur arrived in New York shortly after midnight. Was he excited about the callup?
"I couldn't sleep at all last night, there was no way," Szczur said. "It's exciting. You have to realize it's your job and you have to go out there and work. Once you make it, [the work] doesn't stop. You have to just keep it up."
Carrie Muskat is a reporter for MLB.com. She writes a blog, Muskat Ramblings, and you can follow her on Twitter@CarrieMuskat. This story was not subject to the approval of Major League Baseball or its clubs.