Arrieta set to keep pitching down the stretch
Right-hander fires seven shutout frames with nine K's in Sunday's win over Mets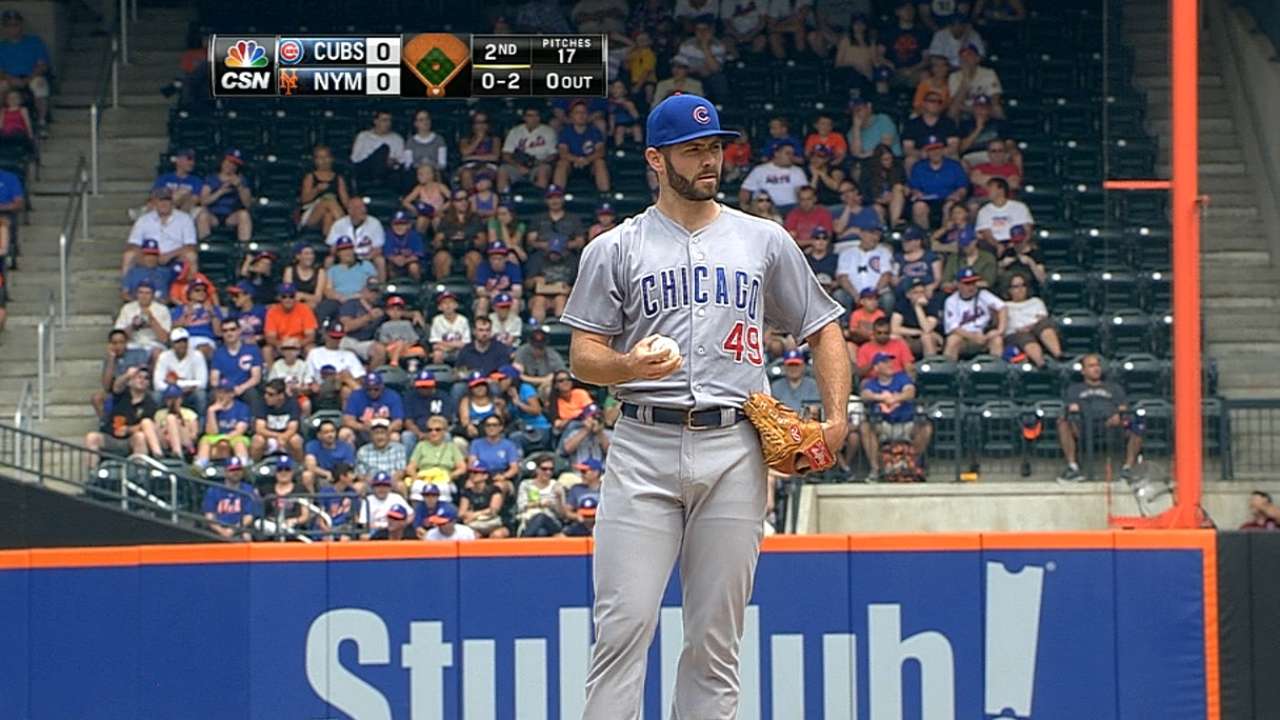 NEW YORK -- Jake Arrieta missed the first month of the season because of tightness in his right shoulder and he has been monitored all year, but the Cubs have no plans to shut down the right-hander before the regular season ends.
Manager Rick Renteria said before Arrieta's start on Sunday that they were keeping an eye on Arrieta, and wanted to clarify that they do that for all of the pitchers.
"There's no plan in shutting Jake down," Renteria said before Monday's game against the Mets. "That's not something we're considering. We're not shutting him down. We're not looking to shut him down, we haven't talked about shutting him down."
Arrieta has 13 quality starts this season, and threw seven shutout innings on Sunday in a 2-1 win at Citi Field. After the game, he said he'd like to finish the season.
"I want to make every start that I have lined up throughout the end of September," Arrieta said. "If something comes up, I guess that will be addressed. I'd love to stay in the mix and finish out on a high note."
Arrieta struck out nine, and the first eight K's ended on curveballs.
"Jake's stuff is so good that days like [Sunday], the scouting report doesn't even matter," catcher John Baker said.
Most scouting reports have Arrieta throwing his curve about 15 percent of the time.
"He threw more [Sunday]," Baker said on Monday. "Against the last batter he faced [Matt den Dekker], I kept calling curveballs so maybe we could strike him out and get a 10th strikeout.
"That's how fun the game was -- you're trying to call the game to strike somebody out instead of trying to get them to put the ball in play on three pitches or less, which is how I usually call a game," Baker said. "That breaking ball -- it was like he was throwing Wiffle balls up there. I felt bad for the opposing hitters because that's something you don't usually see is somebody throwing an 82-mile-an-hour curveball that's that big."
Arrieta's last strikeout in the sixth came on a fastball.
"He struck out [Daniel] Murphy looking on the fastball because we thought he was looking for a curveball at that point," Baker said.
Carrie Muskat is a reporter for MLB.com. She writes a blog, Muskat Ramblings, and you can follow her on Twitter @CarrieMuskat. This story was not subject to the approval of Major League Baseball or its clubs.