Cubs excited to welcome Soler for latest debut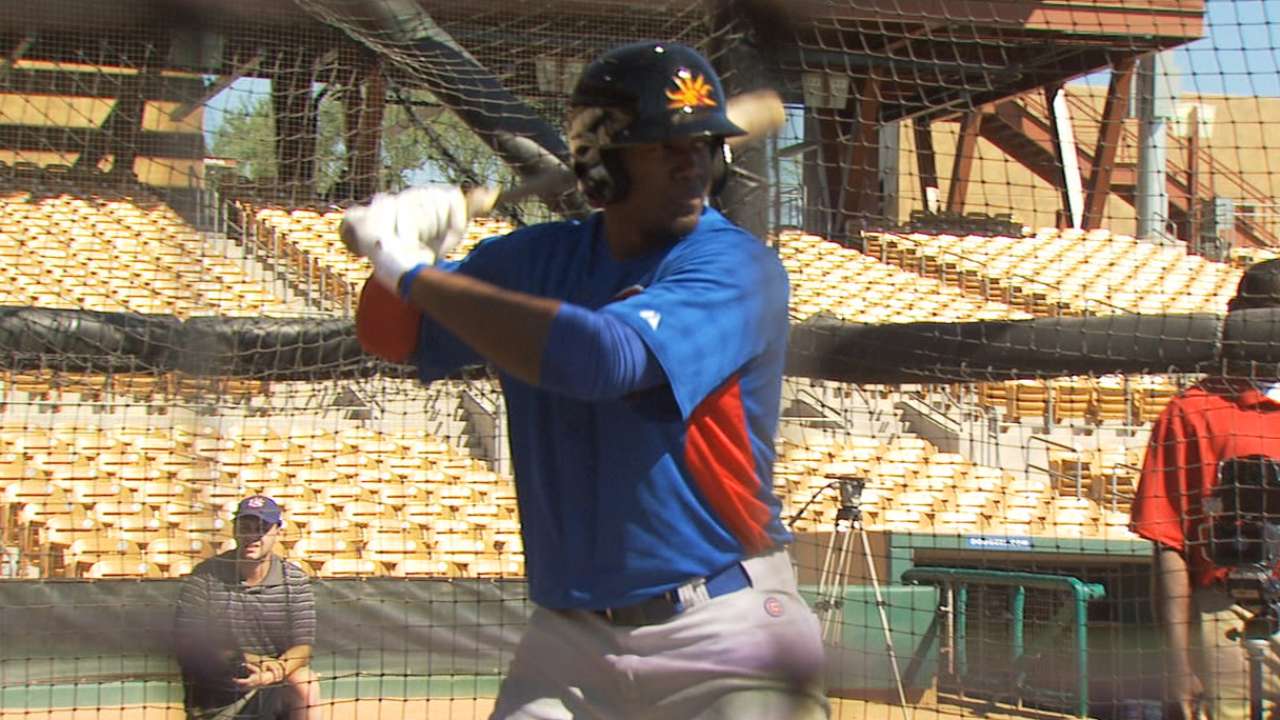 CINCINNATI -- With Jorge Soler scheduled to join the Cubs in Cincinnati on Wednesday, a second member of the so-called "core four" Cubs prospects who are at the center of Chicago's rebuilding effort will be making his Major League debut this month.
The 22-year-old from Cuba is ranked as the Cubs' No. 5 prospect according to MLB.com, and will join 21-year-old Javier Baez, who made his big league debut on Aug. 5. Chicago's No. 1 prospect, Kris Bryant, and No. 4 prospect, Albert Almora, are the other "core four" members. Bryant is at Triple-A Iowa and Almora is at Double-A Tennessee.
Soler missed much of 2013 with a fractured left tibia as a result of a ball he fouled off his leg. He also sustained strained hamstrings in each leg earlier this season. But he still posted a .340/.432/.700 line with 15 home runs and 57 RBIs between the Cubs' Rookie league (rehab games), Double-A and Triple-A affiliates.
"I think it's pretty exciting for the whole organization," manager Rick Renteria said. "A young man that's been talked about quite a bit will be joining us tomorrow. Everybody's pretty excited about it."
The Cubs' youth movement, which has been heralded since president of baseball operations Theo Epstein and general manager Jed Hoyer took the helm, has been materializing at the big league level, particularly over the past two months. Baez, along with Arismendy Alcantara, Kyle Hendricks and others have made their first appearances with the club.
"We're starting to see that light at the end of the tunnel," said first baseman Anthony Rizzo. "There's always an expectation to win, but with these guys coming up, they're going to be patient and let them develop and get their at-bats in, but at the same time, we want to win, too."
The Cubs didn't wait until rosters would expand from 25 to 40 players on Sept. 1 to bring Soler up, but that doesn't surprise Renteria.
"I'm sure that the organization feels that he's been moving along and that they'd like to get him up here to start experiencing some big league baseball and kind of get his feet wet and chip away and see how he goes," Renteria said.
Rizzo agreed.
"I'm not [surprised]," he said. "He's been on a tear, he's been doing everything you can do, and having an extra week, to having five weeks in the big leagues would be good -- to have him up here and get him going and go into the offseason on a high note, or maybe he doesn't do so well here, but going into the offseason knowing what to work on."
Soler will have the comfort of seeing several familiar faces in the visitor's clubhouse when he gets to Great American Ball Park, with Baez, Alcantara and others who have preceded him on the path to the Majors there to welcome him.
"With people coming up that you've played with before, it's good because you know how they play the game and you can still learn stuff from them," Baez said. "I'm pretty sure he knows how to handle [the expectations], but if anything comes up, I'm sure he'll ask me or the other guys how to handle stuff."
"I think the benefit is that he's probably going to see his teammates relaxed and comfortable in their environment," Renteria said of Soler, "which hopefully will translate to him feeling comfortable in his environment."
Renteria said Soler will likely play right field and bat fifth or sixth in the lineup against the Reds on Wednesday.
"We have yet to kind of finish the final conclusion as to where he'll be, but he'll be somewhere in that order," Renteria said.
Carrie Muskat is a reporter for MLB.com. She writes a blog, Muskat Ramblings, and you can follow her on Twitter @CarrieMuskat. Manny Randhawa is an associate reporter for MLB.com. This story was not subject to the approval of Major League Baseball or its clubs.