Soler's first game, homer brings 'exciting news'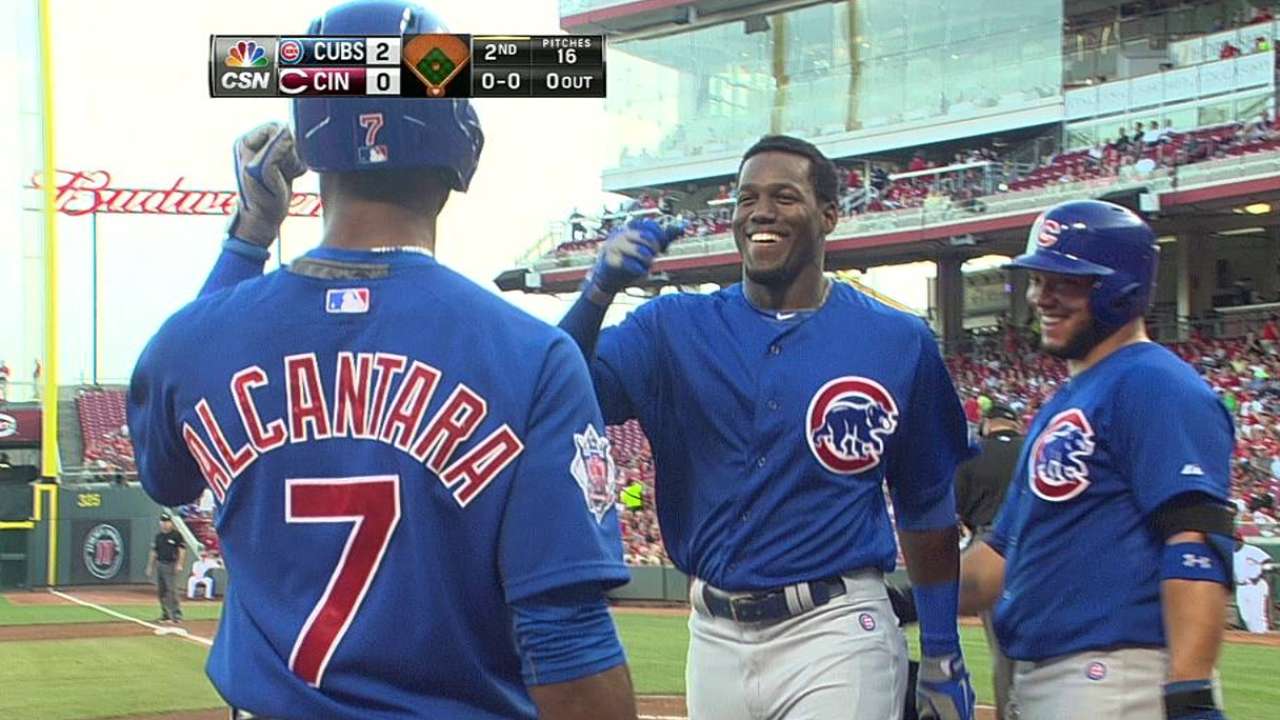 CINCINNATI -- Jorge Soler did get the ball from his first big league home run. And he got rave reviews from his Cubs teammates.
Soler hit a 2-1 fastball from the Reds' Mat Latos 423 feet to straightaway center in his first Major League at-bat Wednesday in the second inning of the Cubs' 7-5 loss.
"He was in a hitter's count, 2-0, and didn't get overanxious," Anthony Rizzo said Thursday. "He took a strike and put a nice swing on the ball. For everyone who has been following us and chattering about the future, it's exciting news for the organization.
"It's definitely exciting being here and sitting back and watching. Hearing [the media] talk about [the prospects] over and over and over and over and over again since Spring Training this year [is tiring]. Now that they're here, it's very exciting. Cubs fans have a lot to be excited about."
Cubs coach Jose Castro liked Soler's approach at the plate, too.
"Last night, he showed plate discipline and understanding what they're trying to do right off the bat," Castro said. "That's really big for a 22-year-old to show that kind of aptitude."
Cubs manager Rick Renteria is well aware there will be what he calls "hiccups" in the development of the young players.
"But in the end, the city of Chicago should be pretty excited and proud of the things that are coming together," Renteria said. "I know it's not the final product by any means, but there is reason to be hopeful if all the pieces play out. It will give us something pretty positive moving forward."
Carrie Muskat is a reporter for MLB.com. She writes a blog, Muskat Ramblings, and you can follow her on Twitter @CarrieMuskat. This story was not subject to the approval of Major League Baseball or its clubs.