Heavy-hearted Starlin seeks to set example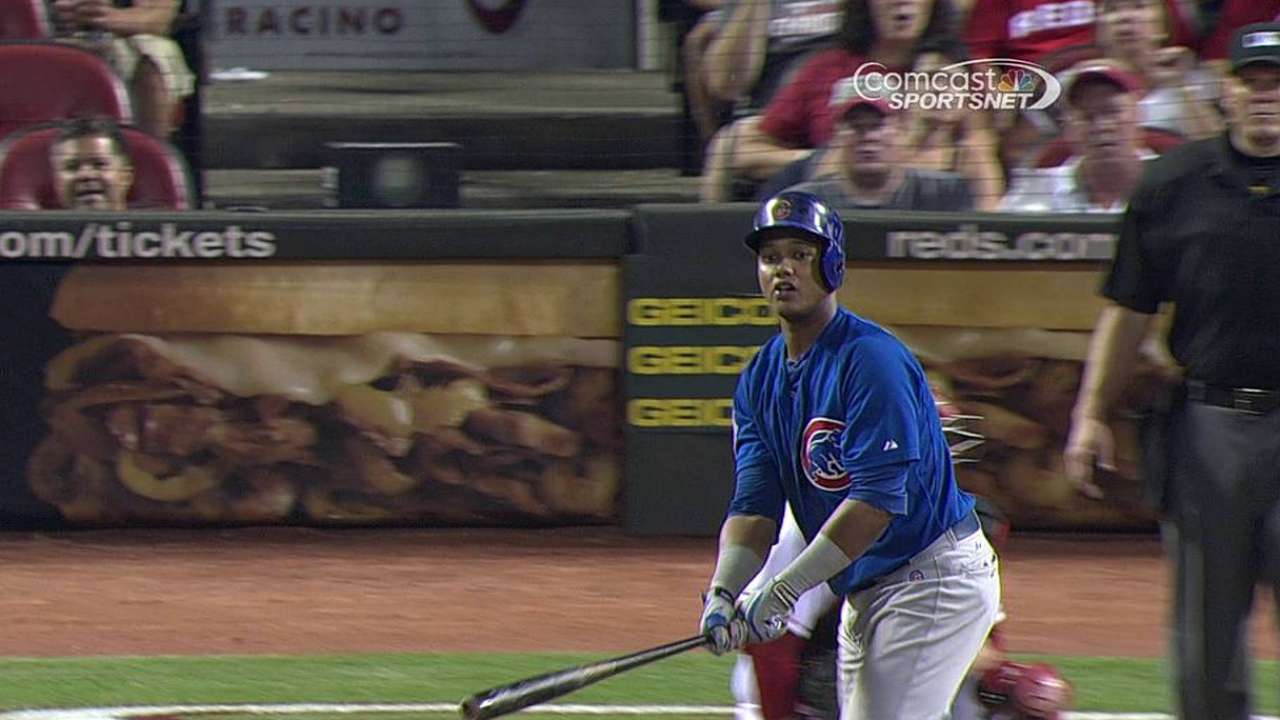 ST. LOUIS -- Starlin Castro is only 24, but he knows he's expected to be a role model for the young players recently promoted to the Cubs. It's just been difficult for him after losing a cousin and three friends in a car accident in the Dominican Republic. They're now his motivation.
Castro was on the bereavement list from Aug. 21 until last Tuesday, and the day after he returned, he made a baserunning mistake that may have been costly. He knows better.
"Everybody who comes here looks at me and looks at [Anthony] Rizzo, and we have to play hard to show those guys," Castro said on Saturday. "We're a young team. We just have to play hard. If young guys see me not playing hard, they won't do it."
That gaffe on Wednesday may have been costly in a loss to the Reds.
"It was a mistake, by myself," he said. "I don't have any excuse for this. ... When that happened, I apologized to the team. It's my fault. We're a young team, and everybody looks up to us, everybody coming here, looks at me, looks at Rizzo. They're coming here to play hard."
It seems as though whenever Castro makes a mistake, as he did again on Friday, it's magnified. Manager Rick Renteria wishes that Castro's critics saw the strides the shortstop has made.
"Since I got here, and probably since before I got here, he's been a topic of everybody's conversation," Renteria said. "Everybody was talking about how he didn't get to second base [on Wednesday] when he hit a ball off the wall. [On Friday] you saw him make a conscious effort of running out every ball; [he] hit the ball in the air, ran that ball out to second base."
The problem on Friday was that Castro tried to stretch his hit into a triple and was thrown out at third. Renteria used the incident as a teaching moment.
"I told him two things: 'That's exactly how I want you to come out of the box,'" Renteria said. "'That's exactly what I want you to do. I want you to give yourself a chance that if that ball drops, you do get to third base. But there's two components to it. The second component is, you have the play in front of you, and you don't have to be [at third].'
"He wanted to make up for other things, so he pushed himself to the extent that maybe it wasn't the right thing to do."
The Cubs want their players to be aggressive on the bases.
"[Castro's] still learning, too," Renteria said. "I'm not trying to make excuses for the young man, but I have to give him his props for starting to give the effort you're wanting to see and inadvertently put himself out there in a position where he pushed it. It ended up being a close play, but he pushed it."
Renteria hopes fans see that Castro is eager to get better and that he has made improvements.
"Here's a young man who feels bad when he doesn't do well," Renteria said. "He takes it to heart. I know people may not necessarily believe it, but he does.
"We'll continue to take our approach with all our players and keep trying to teach,. Ultimately, the player has to get it. The game is about them. They're the ones who will get the boos and the cheers or the jeers. I happen to be the one in [the manager's] chair now having to deal with all these young men, and I'll continue to do it the way I believe I should do it, which is hopefully get the most out of them."
Rizzo feels that September will be a key month for the Cubs as they prepare for the 2015 season.
"The better we do now, the better we go into the offseason, the better we go into Spring Training, and everyone else feels it," Rizzo said on Saturday. "[Javier Baez and Jorge Soler] are guys teams haven't seen before. Our division is really good, and now it's going to be a lot better because the Cubs will be a factor now."
Castro feels the same.
"We have to show those guys we're ready," Castro said. "We have to show the other teams in our division that we play hard, hustle. We have to show those guys they have to be careful next year, because we're coming. We're coming. We're coming to play hard, we're coming to compete."
Castro is also passing along advice to younger players that he received from veteran Alfonso Soriano.
"We're trying to win," Castro said of the Cubs. "[I tell them], 'Whatever you did in the Minor Leagues, now you're in the big leagues. Don't think about money, don't think about anything. You're here. No matter what, they have to pay you.' Sometimes young guys look at you and all they think about is money. If you show that you don't care about the money, the money is going to be there, no matter what. You have to try to play hard and try to win. That's the only reason [to play] -- win."
In the first game of a doubleheader on Saturday, a 5-1 win over the Cardinals, Castro hit his 14th home run, matching his career single-season high, set in 2012. He expects to hit a couple more before the regular season ends. He's feeling good at the plate.
But he has a heavy heart.
"It was a really tough moment for me," Castro said of the fatal car accident on Aug. 20. "I lost one of my best friends, one cousin and two more guys from the same neighborhood. Every time I talked with those guys who died, they always tell me, 'We feel good to see you do your job.'
"When they were alive, they said, 'Keep playing good, we're happy.' That's what I have [to keep] in my mind. I can't do anything to bring them back. The only guy who knows why [they died] is God, and He does things for a reason. It's tough. You try to be strong. Every day I pray to God to be strong, because it's really tough. Coming here every day, I'm going to try to make those guys happy."
Carrie Muskat is a reporter for MLB.com. She writes a blog, Muskat Ramblings, and you can follow her on Twitter @CarrieMuskat. This story was not subject to the approval of Major League Baseball or its clubs.