Soler 'so excited' for Wrigley Field debut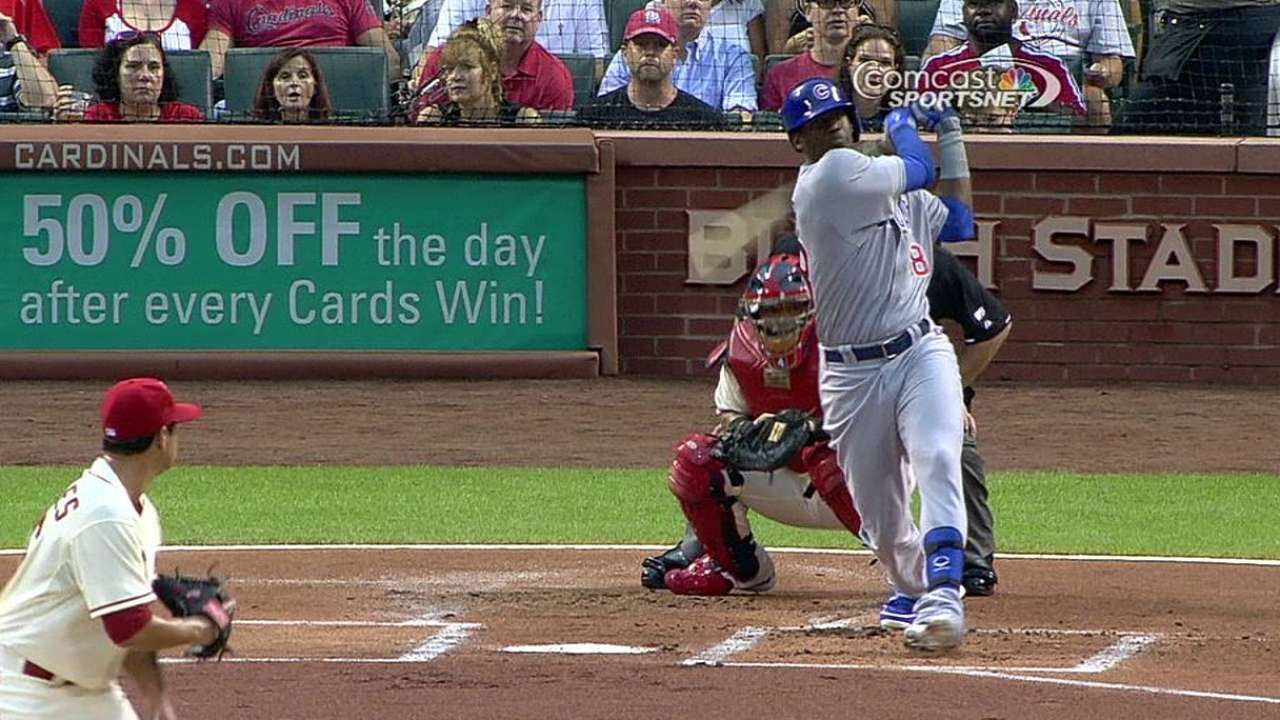 ST. LOUIS -- Jorge Soler doesn't have anything planned for the first time he runs out to right field at Wrigley on Monday for his home debut.
Soler, who did not start Sunday in the Cubs' series finale against the Cardinals, will make his first home start when the team opens a three-game series against the National League Central-leading Brewers. Hopefully, the fans salute the newest arrival.
"I will be excited, so excited," Soler said through an interpreter, coach Franklin Font. "It's my first game at Wrigley in the big leagues."
Soler has already set a first. According to Elias, he is the first player in the Major Leagues with an extra-base hit and an RBI in his first four games. Soler was 8-for-15 since he was promoted from Triple-A Iowa last Wednesday.
When Sammy Sosa took right field for the Cubs, he would blow kisses to the fans in the bleachers. Soler will likely trot out to right and flash his megawatt smile.
"I think everybody's excited about all these guys," manager Rick Renteria said of the Cubs prospects. "I'm sure there will be some enthusiasm and some desire to see [Soler]. They've been talked about a lot. I think people have been waiting anxiously to see part of the future, and rightfully so. These guys are pretty exciting players. We're seeing it firsthand. Hopefully, [Soler will] have a good day, and people will be excited about what they see."
Soler's father will join him at Wrigley Field on Friday for the start of a three-game series against the Pirates. Jorge Soler Sr. said his son started playing baseball when he was 5 years old, and he was always the largest kid in his class, beginning in kindergarten.
Jorge Sr. was a pitcher in Cuba and taught his son the game. How did Soler learn to be patient at the plate? His father said it was because pitchers were afraid to pitch to him because of his size. Soler's Cuban coaches also stressed the importance of good discipline at the plate.
"In the beginning, it was hard to make an adjustment and make the transition from playing in Cuba, coming to the states," Soler said. "Now I feel I'm making the adjustments, and I have confidence."
Soler hasn't stopped learning, taking advantage of lessons from Manny Ramirez, who the Cubs hired as a player/coach at Triple-A Iowa.
"I learned a lot from Manny," Soler said. "When I was with him in Iowa, he was always talking to me about hitting, about personal stuff, what I'm doing on the field, off the field. He's a tremendous person. I always tried to be around him and tried to be the best I can."
Soler homered in his first at-bat in the big leagues last Wednesday in Cincinnati, and he heard from Ramirez after.
"He was so happy about my home run," Soler said. "He [sent me a text] and called me and said, 'I know you can do that. I know you can do better. Keep doing it.'"
"He's a very gifted athlete, a very gifted baseball player," Renteria said of Soler. "It's exciting for all of us, in the limited time, to see him do what he's done."
Carrie Muskat is a reporter for MLB.com. She writes a blog, Muskat Ramblings, and you can follow her on Twitter @CarrieMuskat. This story was not subject to the approval of Major League Baseball or its clubs.